Putting landlords and tenants on the same page
Using data has also been critical during times of change to drive informed conversations with tenants, especially those in the retail sector. Working together with tenants to understand what they need during lockdowns, how landlords can provide assistance, and where data can play a part is the new normal, says Jason.


Using information from CREDIA means we can provide vital market analysis and identify trends from the data we receive, not least around payment cycles. This has proved invaluable during the COVID-19 lockdown, which has affected a range of business activities.

The pandemic has led to a greater understanding of the need for stronger, more mutually-beneficial relationships between landlord and tenant. The days of confrontation are over.
Ready to scale for the future

Looking forward, Jason sees plenty of commercial real estate opportunities on the horizon. In retail, he's predicting a reinvention of the high street into more local shops that serve the community. On the other side, the growth of online retail will only increase the demand for industrial assets.
With all this activity comes the potential for growth and for more data, and this is where Jason's foundational partnership with Re-Leased and CREDIA will set Barnsdales up for success.


We couldn't scale up our business without reliable technology and the data it helps to generate. Consequently, there has to be absolute confidence in the software being used. We have that with Re-Leased and with CREDIA. We know that the data we use is reliable, and we know it meets the standards required by industry regulators.

By using Re-Leased and CREDIA we can go 'above and beyond' in terms of providing better data and greater analysis for our clients. Showing that we're 'best in class', by presenting well-sourced, quality data better than anyone else, is the most effective way of highlighting the job we can do for customers, both existing and potential. We are confident this activity will ultimately grow our business, enabling us to better serve an increasing number of clients and their tenants.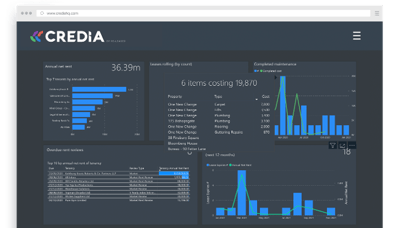 Like the sound of CREDIA Executive? Book a demo or a chat with the team: