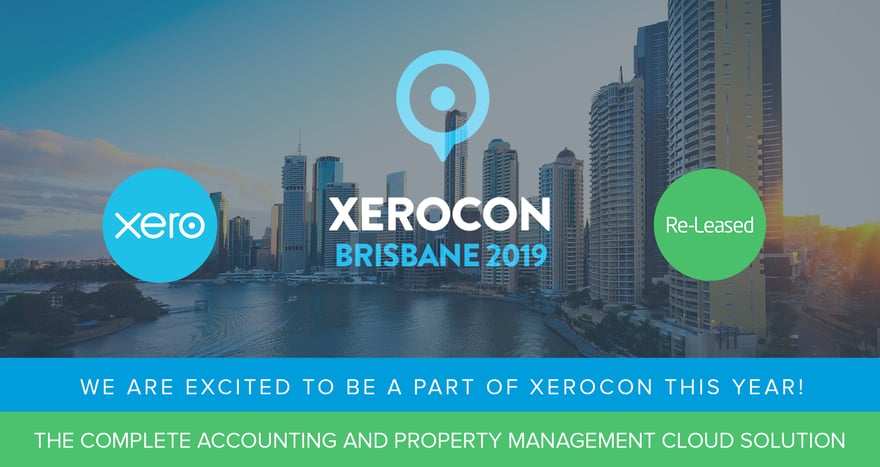 Xerocon AU: We'll be in Brisbane
Re-Leased 05 August 2019
Each and every year Xerocon brings together the most innovative minds in cloud-computing, and this year's event in sunny Brisbane is going to be no different.
We're excited to announce that we are going to be in attendance this September 3-5 at the Brisbane Convention & Exhibition Centre.
As an award-winning recommended app partner of Xero, we understand the benefits cloud accounting has on modern commercial real estate businesses who use Re-Leased and Xero.
"Re-Leased automatically does the background processing for finances and then pushes through into Xero. This means that the property user is doing a lot of the financials and accounting for their business without even realising it," Jeremy Hague, founder of Cloud Accounting.
"For me, and for our wider team, the main benefits of choosing Re-Leased is that it is a cloud-based system and the fact it integrates with Xero was a huge plus, and a large reason why we decided to go ahead with Re-Leased. As landlords, the integrations mean a lot in solidifying our processes," Phil Bartlett, Property Manager for Adam Liddle Properties and Bournemouth & Poole Estates Ltd.
The business benefits of connecting Xero with Re-Leased are aplenty. We have listed some key benefits below:
Save tens of thousands of hours of time spent on admin.
Enable automatic transaction matching and reconciliation.
Create and auto-send repeating invoices and credit notes.
Have business visibility — from anywhere, and from any device.
Work and share documents on the move.
Increase productivity and collaboration with a central source of truth.
Plan ahead by centralising your key financial data and documents.
--
Only a few weeks to go until Re-Leased will be exhibiting at Xerocon in Brisbane. Meet our BDM Tim Lucas and our Customer Success Manager Joanne Patamisi to find out how you can add value to your clients with cloud-based property management software.