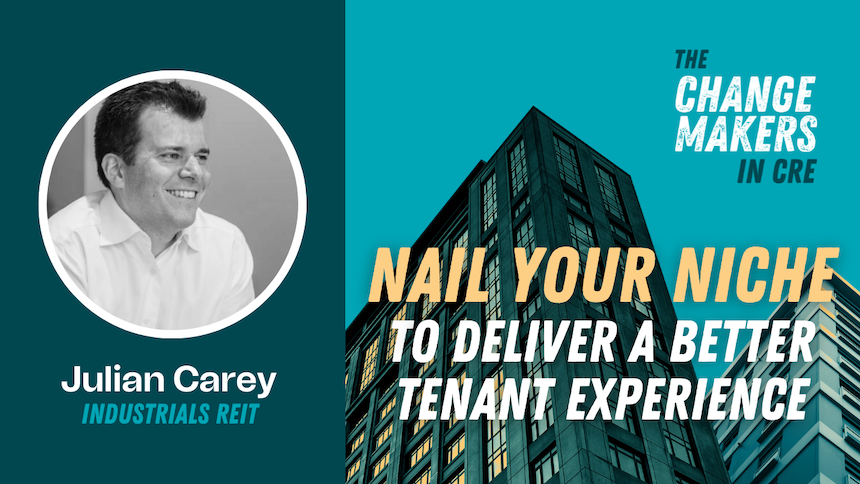 How to nail your niche to deliver a better tenant experience with Julian Carey
Re-Leased 09 May 2022
The customer or tenant experience has been a major talking point across all sectors of commercial real estate recently. As tenants look to move away from 20-year leases to shorter agreements, the onus is on landlords and owners to deliver a service that will keep tenants in their buildings.
It's a trend that has already become popular in the office sector, but Industrials REIT is bringing that focus to the industrial space and finding great success.
In Episode 01 of The ChangeMakers in CRE, a Re-Leased podcast, Julian Carey, Managing Director of Industrials REIT, shares the company's journey from owning and managing assets in different sectors to focusing on multi-let industrial (MLI) estates and operating them through a technology-enabled platform.
Watch the full episode


Taking a different approach in the industrial sector

Industrials REIT is a specialist UK real estate investment trust (REIT) that owns and operates multi-let industrial property, such as industrial estates.
Over the past four years, the company has gone through a major transition from owning assets all across Europe in different sectors to focusing on becoming a UK industrial business.

"We love the supply and demand dynamics of the industrial sector. There's a structural shift going on with eCommerce driving people into the industrial market and very limited supply in the UK because we don't have much land and these properties are expensive to build."
Alongside this shift to focus on industrial, Julian and Industrials REIT have also evolved how they operate by building a specialist operating platform to deliver great service to their industrial customer base.
"We looked at the market and saw that things had changed a lot in the office and service sector, and in things like student accommodation, self-storage and residential where landlords were offering service alongside offering space. I thought, why can't we do that in the industrial market?

We're certainly innovating in the industrial market now but also, to some extent, applying proven techniques that we've seen in other markets."

Why the tenant experience is so important today

The way people consume space is changing, according to Julian. In the past, tenants would sign a 25-year lease on a full repairing and insuring basis and would only hear from a landlord when it was time for a rent review.
But today tenants want much shorter 4-year leases and they want more service from a landlord during that time.
"What we've seen from serviced offices is that if landlords embrace that and change the way that they operate to better serve their customers, then those customers are willing to pay a healthy premium for that service. That's why we think customer service is really important because it gives our customers greater value and it achieves better value for us as an organisation as well."

What a great tenant experience looks like

"Digitization has played a key part in it - it cuts time and cost, and improves consistency through the process."
Julian looks at the business like a chain where the chain is the lifecycle of the lease. Like any chain, it's only as strong as its weakest link and anytime a link breaks, the customer suffers.
That's where technology comes in to ensure that all the links are robust and working as they need to be.
"What technology really does is make sure the information flows to where it needs to be when it needs to be there, and there's consistency and there's monitoring about how all those different elements and links of the chain are working at any one time."
So what does that look like at Industrials REIT?
When a unit becomes vacant, the traditional method of finding and securing a tenant and getting the space leased could take anywhere from 6 to 9 months.
You would spend time creating marketing materials, engaging agents to show the property and find a tenant, getting lawyers in to draw up the lease, and then go through negotiations before the lease is signed.
Now, since all the information sits in their digital platform, when a unit becomes vacant all of the information is online immediately.
The system automatically pushes the materials to every online portal the company uses to list their units as well as on their own website.



The lease price calculator on the website shows potential tenants their costs per week, per month, per year or however they want to view it.


All inquiries go directly to Industrials REIT's in-house lead support team who respond within a matter of hours to organize viewings.

The use of a smart, digital lease saves roughly 60% on the time and cost involved with traditional leases and lawyers.

This all results in a more straightforward experience for new tenants coming onboard, and it also achieves huge cost savings for Industrials REIT as there are no agency or legal fees which reduces the cost of the transaction.
Why your operating platform is your point of difference
Industrials REIT has learned a lot along the way and Julian admits it has been a daunting change to make. However, one aspect that has been an advantage for the company is that they are REIT. They have permanent capital and a long-term investment horizon which has set them up to invest in their operating platform.
On top of this, Julian says it is also important to really hone in on tailoring an operating platform to a sector's needs to truly deliver stand-out tenant experiences.
"A best-in-class operating platform is sector-specific. You don't see people operating student accommodation and self-storage on a single platform, they typically have very specific features. So you've got to nail your niche and focus is so important. We've benefitted from that enormously and we think that gives us an advantage."