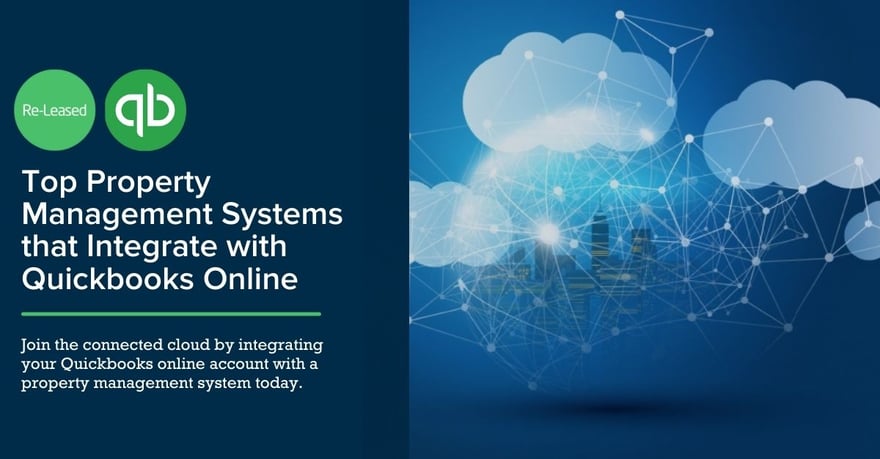 Top Property Management Systems that integrate with QuickBooks Online
Re-Leased 07 January 2022
When shopping around for property management software, you may have found you have many to review. One of the many consideration factors is which accounting tools are available. Most property management platforms offer a simple sync of your income and expenses. However, finding a property management software system that fully integrates with QuickBooks Online can be more challenging than you might think. Eliminating being tied to a PC in the office and double entry by your accounting team are essential features that can be found in the best-integrated systems. In this article, we break down the top 4 property management systems that offer full integrations with Quickbooks Online.
The top 4 property management systems that integrate with QuickBooks Online
1. Re-Leased Property Management
Re-Leased has seamless two-way integration with the top accounting software in North America. This gives you access to one easy-to-use, fully integrated all-in-one, cloud-based property management and accounting solution. You can make the workflow and life easier with the Re-Leased + QuickBooks Online integration. Re-Leased is available through the QuickBooks Online app store.
Re-Leased features:
Stay connected and impress your tenants - Turn your team into high performers and maximize your property portfolio returns with this powerful integration. Track all documents, rent rolls, and payments for a total package tenant solution.

Work smarter and get time back - finance and management teams will love how intuitive, flexible, and collaborative the system is with the QuickBooks Online integration. The Re-Leased system allows you to manage your tenants, leases, and properties from anywhere at any time, while QuickBooks Online takes care of all the accounting needs.

Eliminate errors with perfectly accurate data - No more double entry by your accounting team. Re-Leased removes double entry through their seamless sync by integrating with QuickBooks Online, freeing up time and mitigating risk, allowing you to focus on growing your business. When you create an invoice in Re-Leased, it sends it to QuickBooks Online and vice-versa.

Remove the pain of property accounting - Integrating with QuickBooks Online allows your teams to access the data they need and work together seamlessly. This gives them complete visibility of your financial health — not just at tax time but throughout the year, so you can make informed decisions.
2. DoorLoop
DoorLoop is an all-in-one property management software with a one-way automatic sync through a third party to QuickBooks Online. DoorLoop promotes their accounting integration but is not available through the QuickBooks Online app store.
DoorLoop features:
Full accounting suite
Maintenance management system
Tenant portal and communication tools
Owner portal
Marketing and leasing tools
Mobile app version
3. SimplifyEM
SimplifyEM is a property management tool with many great accounting features. However, it's on this list because it offers a simple QuickBooks Online integration that works. It is not available through the QuickBooks Online app store.
Because it isn't a complete accounting tool, nor as robust a property management tool as some, you may find you'll be missing some features compared to the other options on this list.
SimplifyEM features:
Payment reminders
Scheduling tools and community tracking features
Lease tracking
4. Tenant Ledger
Tenant Ledger is an all-in-one commercial property management software that easily keeps track of leases, properties, and accounting. Due to the integration with QuickBooks Online, Tenant Ledger streamlines bank deposits, bank reconciliation, expenses, printing checks, and invoices via a two-way sync.
Tenant Ledger features:
Document management and automation
Owner and tenant portals
Work order tracking
Financial reporting
Operation analytics
Financial and operational reports
Online only through desktop
Does QuickBooks Online have a property management system?
The short answer is: to a point. You can use QuickBooks Online for property management for the accounting side by setting up each property and vendor as a customer and tenants or residents as tags for invoicing, rent payments, and business financial purposes. However, it lacks a proper system's property management functionality with leasing agreements, rent rolls, calendars, tenant communications, maintenance management, and more. Like the other accounting systems but lack the management side, QuickBooks Online will work, but it is not an all-in-one system.
While the options for property management systems seem endless, finding one that will incorporate all of your business accounting and property management needs takes a little research. It's best to trust one that QuickBooks Online themselves also trust. Systems that sync with QuickBooks Online can be great, but they may fall short on the property management side. Integrations that allow you to do the work once, cloud-based access for use anywhere, and excellent tenant communications features are essential to growing your business.
Schedule a demo with our sales team today to see the integration in action.