Advanced Analytics Changed The NBA – Can It Do The Same To Real Estate?
Nathan Stanogias 09 August 2019
As humans sometimes we make decisions quickly, other times not so much. We draw conclusions based on our calculations of what we think is right – we live with it and then go on with our day.
If we break down the anatomy of a business decision it always looks the same: we want the best out of the cost-to-benefit ratio.
What if there was a more sophisticated way to make decisions? So to do things well, to do them on time, and to do them more efficiently than ever before?
Well, there is an avenue to achieve this in real estate today: enter PropTech, and more impressively, advanced analytics. Let's dive in.
As we're riding the wave of technological change, we're constantly adopting platforms that have us swiping, scrolling, uploading, downloading, and so on. Technology has changed the way the world goes about its business.
And for real estate in particular, PropTech is contributing big time to the way tech is enhancing the industry: sales, leasing, management, marketing, maintenance, and all other disciplines of real estate have experienced major improvements to their form and function.
PropTech firms are building out solutions that combine the real estate skillset with a technology infrastructure to build hand-in-glove solutions that are, quite literally, making real estate professionals better at performing their daily tasks, as well as better at operating their businesses, too.
The people typically behind PropTech businesses are those who have a background in tech and/or real estate, and are fed up with a deficiency in their line of work, and then go out on their own to build products to solve the problems they once faced.
But there's another revelation in modern real estate that's steadily growing in popularity: and that is big data and advanced analytics.
Organisations are beginning to realise the power of harnessing data and real-time insights to assess current performance, future performance, risk mitigation, and undervalued business opportunities.
But what exactly is big data?
It is essentially large sets of information that can be analysed by platforms (typically by sets of algorithms) to reveal patterns, trends, and associations that can be used to inform better business decisions.
Harnessing advanced analytics is a trend that can be seen in major sports leagues across the globe – a really nifty example of this is the National Basketball Association (NBA) in the United States. The NBA, both on and off the court, is driven by analytics.
All 30 teams in the league have invested heavily in analytics departments that have the sole duty of sourcing and studying data to uncover ways to operate at a competitive advantage.
This is evident in the rise of favouring the 3-point shot, which is a successful goal scored from behind a designated arc that's laid out around 23-feet away from the hoop.
Back in the '80s and '90s, the 3-point shot was extremely undervalued (and under-utilised). This is because of a few variables: it was newly introduced and thought to be gimmicky, and it was ultimately perceived to be low yielding due to its distance from the goal.
This is reflected in the average number of 3-point shot attempts per game across those two decades: around 3.5 across the '80s and around 11.4 across the '90s, respectively.
While there was a sizeable increase from decade to decade, there is no comparison to its usage today: in the most recent NBA season the league averaged over 32 attempts per game.
Advanced analytics is the driving force behind this shift
Analysts discovered that because a successful 3-point shot is worth 1.5 two pointers, players do not have to shoot 3-pointers as efficiently to match the value of successful 2-pointers. In fact, players only need to make 33% of their 3-point shots to match the value of making 50% of their 2-point shot attempts.
While it may be physically easier to score 2-points from a closer distance, it's not necessarily more valuable. So if we're going off value, the 3-pointer provides more point equity.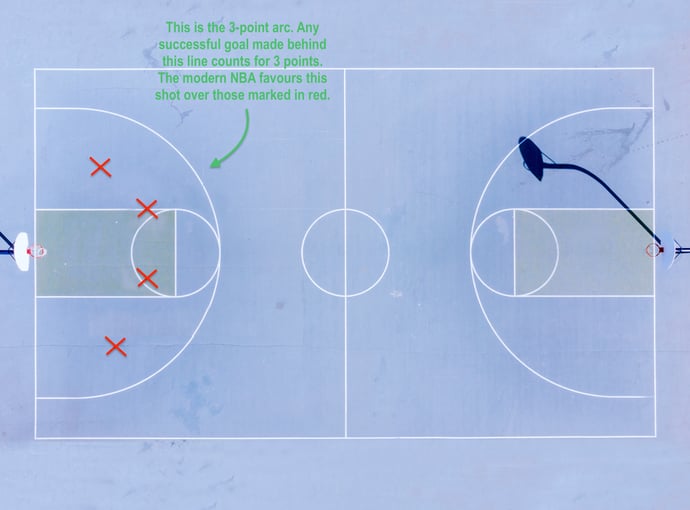 This may seem like a pretty simple, rudimentary calculation (that 3 equals more than 2), and you're probably wondering why league executives didn't pick up on this earlier.
Well, here's the thing: there was no such thing as analytics departments, and teams weren't dedicated to discovering how to innovate with the data they had at their fingertips.
But now that the NBA has discovered the power of advanced analytics, there are tens of millions of dollars poured into teams of data nerds who are fixated on pursuing the betterment of modern basketball.
Here's an example of someone who plays the center position, one that was historically played within 10 feet of the goal to utilise a height advantage over opponents: Brook Lopez, who stands 7 feet tall, has had to change to adapt to the 3-point shot, even though he can touch the goal on his tippy-toes.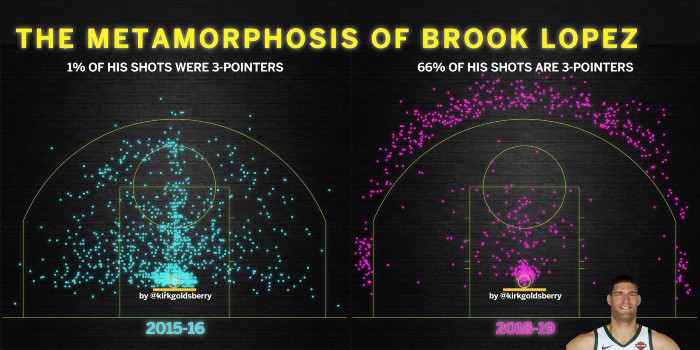 Image via Kirk Goldsberry
The embrace of the 3-point shot is just one example of how advanced analytics is changing the NBA. The league is also saliva testing players to analyse fatigue, they're investigating the benefits of load management through strategically resting players, and so on.
Ok, so how does advanced analytics pertain to real estate?
Well, real estate can use the blueprint for adopting advanced analytics that the NBA has laid out: garner the data that has been staring back at you for decades, and use machine learning algorithms to understand and uncover contrasting information.
This is something traditional analytics falls short on – it's only possible to obtain surface level data. To be ultra competitive in today's market, real estate players need to be at the forefront of technology adoption. There's no other way.
The terms real estate and advanced analytics haven't historically gone hand-in-hand, but that's really starting to change now. According to a report by Propmodo, CBRE are using advanced analytics to help tenants determine space requirements.
They are using advanced computer modelling to essentially weigh in on their client's needs and understand what particular space(s) are right for them, as to align to their unique business objectives.
A successful data-driven approach can yield powerful insights for real estate businesses, which is a far cry from what the industry has been accustomed to over the past 20-plus years.
For example, advanced analytics has the capacity to provide more detailed predictions and assumptions about a set of buildings in the same zip code – this is extremely useful for property managers and investors in their own right, who want to know everything they can about a set of buildings, offices or warehouses.
By harnessing applications that are powered by advanced analytics provides the ability for scale. While it may be a costly and challenging initiative, it's certainly more than viable.
Scenarios such as identifying assets that are likely to retain (or increase) their value in declining or weaker markets, the cost-to-benefit ratio of building upgrades to determine quality tenant uptake, and the likelihood of vacancies within a determined timeline are all made possible by advanced analytics.
Artificial intelligence (AI) will start to play a big role in the rise of advanced analytics driving decision making in real estate, as it will provide the framework, the platform, and the data pool required to make informed decisions.
In addition, the adoption of cloud-based software to manage commercial real estate feeds well within the theme of real estate players favouring actionable data insights, and is something the industry must be invested in before it's too late: live, on demand reporting functionality means that users can use live data to inform their decisions from anywhere, at any time.
If we couple cloud software adoption with advanced analytics, real estate players will be well on their way to reaping the rewards of leading the pack through innovation.
--

Up Next: A Chat with a PropTech Influencer who Created a Robot to Empower Real Estate Professionals

Senior Marketing and Content Specialist @ Re-Leased. Former Journalist, Editor, and Founder of Your Content.