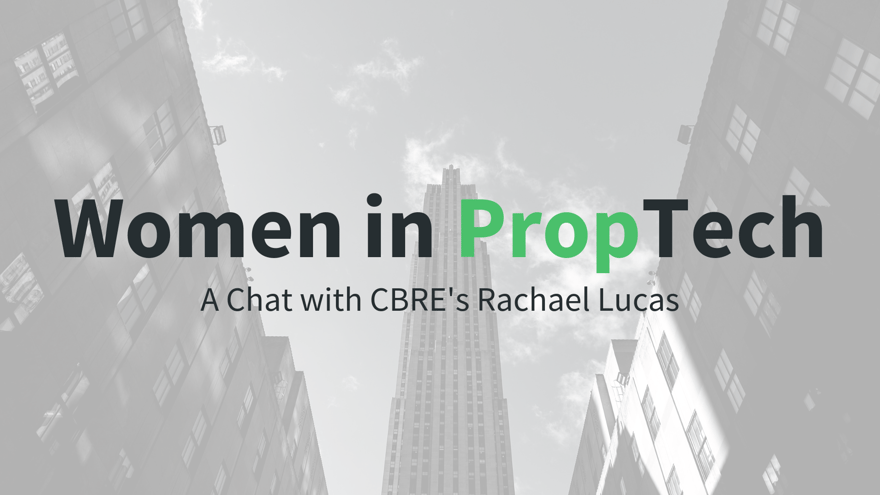 Women in PropTech: Rachael Lucas, CBRE
Nathan Stanogias 11 July 2019


Rachael Lucas is the Senior Marketing Manager for CBRE, and she agreed to have a chat with me about her love for chocolate, the challenges faced by women in PropTech, and the changing nature of real estate. Here's our conversation.
You studied kinesiology and exercise science... so what lead you to a career in real estate marketing?
After graduating from uni, I decided to go on a working holiday in the USA with Camp America. After summer ended, I ended up staying in the States for 12 years where I fell into residential real estate by way of a referral from a friend.
Part of my role was marketing residential property to a targeted audience, which I absolutely loved and have been involved with ever since.
Talk about your role at CBRE. What does your day-to-day look like?
Each day is always different at CBRE and that is one of the reasons why I love working here. From designing and implementing processes and procedures, to creating marketplace strategies for property marketing.
The fun part is finding new and innovative ways to help our agents achieve their sales goals through marketing automation and lead nurturing. A normal day is spent in and out of meetings with our media agency, suppliers, marketing teams and brokerage.
How do you think women in PropTech are breaking down old workplace stigmas?
To remain competitive in any industry, businesses need to provide solutions to their client's needs. In commercial real estate, these needs vary from sector-to-sector so we need to ensure that we are listening to our clients and understanding their pain-points. This helps us to identify new and innovative ways of providing value where our competitors can't.
Diversity in the workplace provides a vision and perspective that differs from the norm regardless of gender, race or orientation. Without a diverse workplace, a business can become regimented and stuck in a comfort zone, and struggle to find groundbreaking ways to grow and evolve.
Let's take a break from the serious topics for a moment. If you had to give up one thing, what would it be: Lindt mint chocolate or funny dog videos?
Gee that is a tough one – but it would have to be funny dog videos. Can't give up my chocolate addiction!
Ok, back to the hard-hitting stuff. So tell me... how are things changing in the real estate industry?
Commercial real estate is notoriously slow in the uptake of innovative technology to assist with marketing automation. Sales and marketing go hand-in-hand in my opinion. You can't have one without the other.
To achieve a sale – a customer has to know about your company. Who are they? What do they do and how can they help me achieve my goals or solve my problem?
We are getting better at identifying who our customers are and what their needs are. But we need to be at the forefront of experimental design and implementation of new technologies rather than sitting back and waiting to see what works for other industries, and then looking at ways to integrate them into our business model.
What are the challenges faced by women in PropTech?
The real estate industry is notoriously male dominated and this can be incredibly challenging and intimidating for women who want to get their foot in the door. But the gender gap is slowly starting to close, especially in the big commercial firms.
Access to funding seems to be the biggest issue for women in PropTech startups and without the financial resources or networking capabilities to get in front of the decision makers, getting a start up off the ground with little-to-no working capital is near impossible. This could also stem from the conservative nature of the real estate industry.
And why do you think these challenges have been so prominent in real estate and technology over the years?
Just as we have been slow adopters of technology in property, so are we slow to adopt the benefits of a diverse workplace focusing more on a what-we-know-works mentality.
As a revenue-driven industry, moving away from the traditional male dominated model can be seen as too risky to a business's bottom line.
What would you say to organisations in the property and tech industries (so real estate workers and tech workers, respectively) that don't place enough value on gender diversity?
Women aren't necessarily better in the workplace – they are different. They provide a different perspective to the equation and allow for groups to work through processes and procedures to find what works best for the organisation and their customers.
I believe in hiring the best person for the job based upon their skills, experience and work ethic and not upon an "identity". It is finding the right person, at the right time for the right role.
At CBRE, our Industrial and Logistics department are launching an "Open the Door" campaign which is aimed at encouraging young females to consider the Industrial sector as a career path option. A sector that is known as tough for females to operate in, our team wants to encourage women to enter the field.
--
Up Next: There Are Different Types of Tech Adopters. Which One Are You?

Senior Marketing and Content Specialist @ Re-Leased. Former Journalist, Editor, and Founder of Your Content.