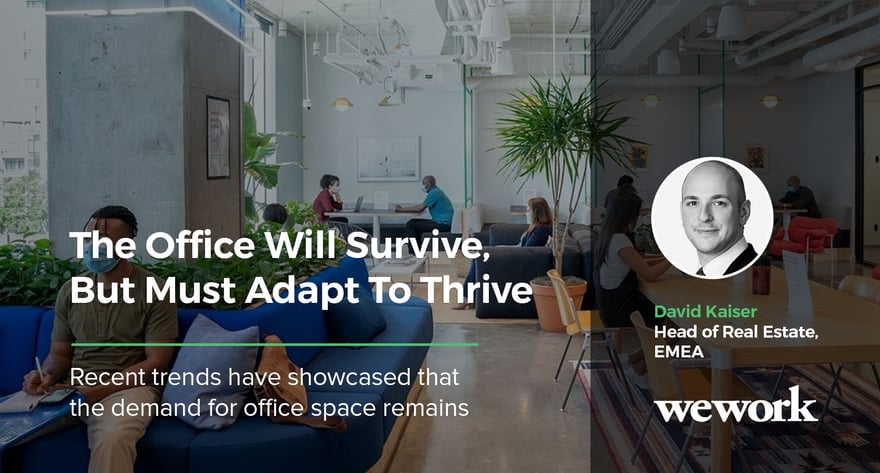 The Office Will Survive, But Must Adapt To Thrive
David Kaiser 13 December 2021
Over the course of 2021 and beyond, we will see a sharp uptick in demand for office space, as well as a shift from demand for traditional real estate to a more flexible, user-centric approach.
The pandemic has altered how we live and work, effectively creating the largest inadvertent working experiment of all time. For the majority of employees across the UK, working from home has been a new experience, and many have enjoyed some of the benefits it has to offer; from increased flexibility and autonomy to reduced travel time.
That being said, the value of the office has never been clearer. We know from speaking to our members, here in the UK and globally, that the vast majority of employees and company leaders recognise the need for a productive, collaborative space, away from home, to reconnect with colleagues and help build and sustain an inclusive company culture.
With the role of the office more important and topical than ever, we are sure to see an influx of employees return, as soon as the government permits it.
However, only a small proportion of people are likely to return to the office five days a week. This increased demand for flexibility – in time, place and space, plus the ongoing war for talent, will mean occupiers must offer flexible arrangements and diversified workspace if they want to attract and retain the best talent.
This creates an impossible balancing act – offering employees greater independence and flexibility, but also ensuring teams are together in person to collaborate.
The solution to this balancing act has to be provided by landlords and operators of office space, by moving towards a more user-centric mindset.
With an increased demand for choice, office space providers must offer the opportunity to work in multiple spaces across a city, country, or globally. These spaces must be safe, secure and have good connectivity.
At WeWork, we've recently launched two new flexible workplace products, All Access and On Demand, to give workers complete flexibility on where and how they work. We have also implemented a number of health and safety enhancements over the past year, which have been independently validated through the award of a Global Certificate of Conformity by Bureau Veritas.
Space that maximises productivity and connectivity, provides flexibility for companies to scale and reconfigure as needed, and most importantly provides aspirational and functional areas that the end-user wants to work in, is key.
At WeWork, we have designed specific collaboration hubs which take our core flexible space product and builds on it to create an even more collaborative workspace.
We've created a community where our members can learn, meet people and make connections – this focus on community has been at WeWork's core since inception.
Landlords must take note. They can no longer rely on sign- ing tenants on 10-20 year leases, and only get in touch with them every 5 years when a rent review comes up. Occupiers simply don't know what their head count or office needs will be in 5, 10 or 15 years, most will demand flexibility.
However, with increased flexibility, landlords and operators must remember that their customers will vote with their feet - If you are not offering the best service and product to the people in your building, they will not renew their lease on expiry.
This push for quality can only drive innovation and improve the office product for everyone – something we are very excited to be part of.

Download the full report here: