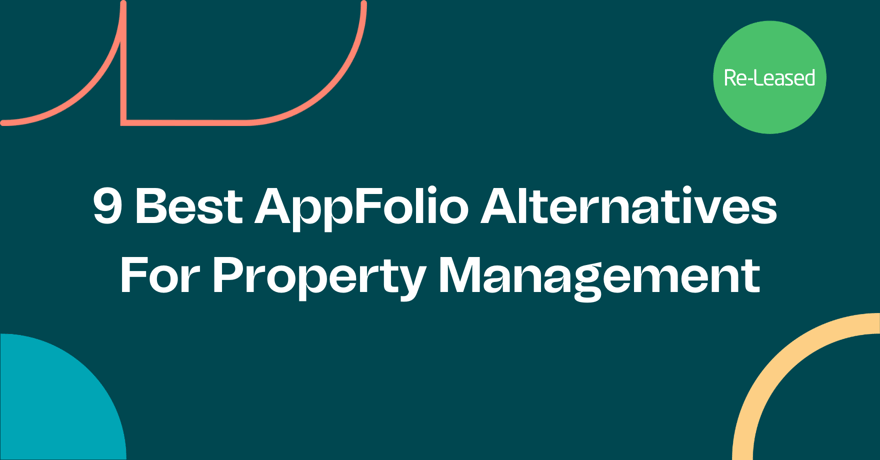 Best 9 AppFolio Alternatives & Competitors For Property Management
Re-Leased 21 January 2022
You're probably here because you just plugged "best alternatives to AppFolio" into Google (or some other search engine) and shuddered at the sheer number of options. On G2 alone, there are 382 property management software solutions. 382! Don't worry though — we've done the legwork for you. In this guide, we'll cover the pros and cons of the top property management software solutions on the market.

But first…
Why use an AppFolio alternative?
In short, AppFolio is a generalist. It's an all-in-one property management software designed for multiple use-cases (apartment, residential, commercial, student housing, etc.).
But the problem with generalist solutions is that they often fall short when it comes to specialization. With that in mind, using property management software that's more specialized allows you to do the following:


1. Use software that's designed specifically for commercial real estate
If you're looking for a solution that helps you manage a commercial property, you'll need an alternative to Appfolio Property Manager that's more focused on that.
Of course, commercial and residential property managers have many tasks in common, including screening tenants, maintaining properties, collecting rent, and chasing arrears. But commercial property managers also face unique challenges like
CAM budgets (also known as outgoings and OpEx in other parts of the world).
Balancing business types and the mix of tenants
Managing unique maintenance and utility needs
Managing a high number of tenants (over 50)
We've heard from our customers that they weren't able to serve this part of their business well with their previous software. Instead, they had to run the commercial side of their business on reports rather than an intuitive property management system.


2. Process CAM reconciliations without complicated spreadsheets
If you're not too familiar, CAM stands for common area maintenance. So CAM reconciliations are all about making sure the CAM expenses reimbursed by the tenants match the actual expenses incurred by the landlord during the prior year.
For example, if tenants paid $10,000 towards CAM expenses but the landlord only spent $7,000, you have some adjustments to make. AppFolio does offer CAM tracking and reconciliation tools but its functionality isn't as comprehensive as many users need, forcing them to use Excel instead.
Running this task in Excel may seem fine at first, but it comes with many risks. What happens as you scale? What does it mean in terms of efficiency and return on investment? How will it affect your business as you bring on younger employees who expect slick and intuitive user experiences?


3. Continue using your existing accounting software
AppFolio promotes a "single-stack solution" encompassing both accountancy and property management capabilities. However, a quick look at G2 reviews will show you that the accounting side of the software often falls short — leading to double-entry errors, extra work, and lots of frustration.
This comes back to the generalist issue. It's awfully hard to get both property management AND accounting right, meaning it's often better to use an accounting product that was developed by accountants and a property management system created by property managers.
That said, you need both sides to work together because they're so intertwined. That's why at Re-Leased, we partner with the best accounting solutions in the market like QuickBbooks Online, Xero, and more. (Learn more about Re-Leased here).


4. Easily reach customer support when you have issues
Another glance at G2 or Capterra will show you that AppFolio really struggles when it comes to customer service. Problems with training, onboarding, and response times are a common thread, often leading to costly delays and botched implementation.
Using an alternative to AppFolio Property Manager gives you a better chance of reaching customer support. At Re-Leased, for example, our team is dedicated to making every customer in our community a success.
Re-Leased is a mission-critical system for your business so we're ready to help if you ever need us. Our support team is available 24 hours a day, 5 days a week via web chat, phone and email and are experienced commercial property professionals. No ask is too big for our team to help you get the most out the Re-Leased.
Here are some G2 reviews of our support experience:
"Love the help option and that support is only an email away."
"There is nothing to dislike - the support is there when you need it, and the software is ever-evolving, so anything that has been a little clucky has been refined."



AppFolio alternatives comparisons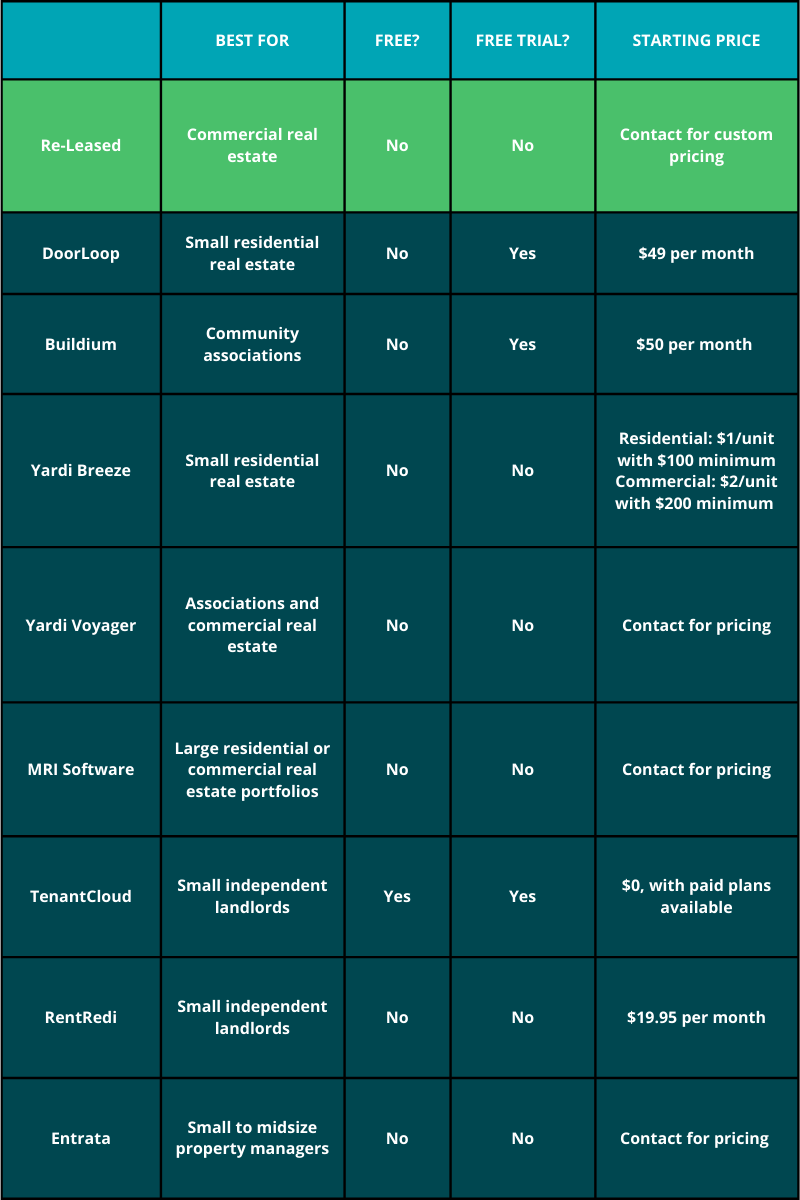 Top 9 alternatives to AppFolio worth your attention
As you can see in our comparison table above, there are a lot of choices with property management solutions. But don't be intimidated! We're here to help.
In this section, we'll inspect each one, weighing the pros and cons so you can choose the best project management software for your business. And while we may be a bit biased with our #1 recommendation below, we'll start with our favorite.
1. Re-Leased

Re-Leased property management software is specifically designed for commercial real estate. We understand what commercial professionals need and make the complex simple because that's what great technology should do.
Pros
Specifically designed to handle commercial real estate property management.
Full, two-way integrations with leading accounting solutions like

Xero

,

QuickBooks Online

, and more. This means you can:
Keep your existing accounting system.

Automate tasks

like transaction matching, reconciliation, and payments to creditors.
Automatically raise professional repeating invoices in line with leases.
Generate bulk payment files for upload to your bank accounts.
Sync data from your contacts, invoices, bills, and credit memos.
Transfer accounts, property class, and tax rates.
Cloud-based software solution that can be

accessed from anywhere, anytime

with unlimited users.
Flexible software that allows you to scale up, scale down, or discontinue if the business direction changes — an ideal arrangement for the modern-day commercial real estate professional who needs to be agile, lean, and adaptable.
Cons
More features than necessary for many small residential property managers.
Pricing
We like to keep things simple here at Re-Leased, so we offer a choice of plans across our products to suit your property management needs. Contact Re-Leased for custom pricing information!

2. DoorLoop

Like AppFolio, DoorLoop's software is built for property managers, management companies, owners, landlords, investors, or anyone managing any type of property worldwide. Unlike AppFolio, DoorLoop is specifically designed for property managers with smaller portfolios.
Pros
Good for managing a small residential portfolio.
Platform is easy to use and beginner-friendly.
Offers a basic set of accounting features including online rent payments and bank reconciliations.
Offers basic QuickBooks integration.
Cons
Residential-first system. Does not cater to commercial-specific tasks.
Lacks features for managing complex properties or large numbers of properties.
If you use DoorLoop's accounting system, you'll still need to run payroll and manage credit card expenses with another program.
QuickBooks is the only accounting program that can be integrated.
Pricing
DoorLoop's pricing starts at $49 per month for entry-level features.



3. Buildium

Buildium's software is designed for residential property managers, property managers with mixed portfolios, and managers of community and homeowners associations. Like DoorLoop, it's a good place to start if you're just getting into property management and have a small portfolio.
Pros
Helpful knowledge base with video tutorials and guides for beginners.
Offers an affordable basic pricing tier for managing small portfolios.
Cons
Many popular features are only included in their premium pricing plan.
Communication tools can be difficult to use. As one reviewer put it on

Capterra

, "It is frustrating that email communication cannot be streamlined through this software. You can send an email out to a tenant, but they are not able to reply to the email through this method."
Customer service isn't always responsive with many customer requests taking weeks to hear back.
The software doesn't handle work order maintenance processing well.
Pricing
Buildium's entry-level plan starts at $50 per month.

4. Yardi Breeze
Yardi Breeze is a property management software designed for residential, commercial, and specialty markets. Of the three Yardi property management products (Breeze, Breeze Premier, and Voyager), Breeze is Yardi's entry-level platform.
Pros
Easy-to-use interface that's great for beginners.
Cons
Yardi Breeze doesn't offer an accounting integration of any kind. So if you want to keep using QuickBooks or Xero, you'll have to manually enter information on both platforms — often leading to costly double-entry errors.
No smartphone version of its app, which means you can't access information on the go.
Pricing
Yardi uses a per-unit pricing model, with residential starting at $1/unit/month with a $100 minimum. For commercial users, prices start at $2/unit/month with a $200 minimum.
5. Yardi Voyager
Yardi Voyager is a browser-based property management system designed for large properties like condominiums, co-ops, and homeowner associations. Compared to Yardi Breeze, which is better suited to small residential real estate, most mid to large property management companies will be better served by Voyager.
Pros
Strong features and capabilities for business management and reporting.
Allows for different expense pools to be set up based on leasing needs.
Cons
Can be challenging at first to use, especially if coming from a different project management database.
Many user reviews on G2 and Capterra mention frustration with Voyager's outdated, clunky navigation system and slow load times. Only

59%

of users on Capterra say they're likely to recommend Voyager to others.
It's been around for a long time, but the commercial real estate game has changed and Yardi Voyager hasn't kept up.
Pricing
Contact Yardi Voyager for custom enterprise pricing.
6. MRI Software
Founded in 1971, MRI has been around the block when it comes to the real estate industry. They offer both residential and commercial solutions that are ideally suited to companies managing large portfolios.
Pros
Reports are easy to run and can be exported to PDF or Excel spreadsheets.
Offers full accounting software.
Cons
The accounting software can be tricky for those without a strong financial background.
It's unable to integrate with any accounting software, so you have to either change to MRI's system or double-enter.
The user Interface is quite outdated.
The web-based version of MRI can be slow to load. According to one reviewer on

Capterra

, "Before, it took a couple of seconds for the program to load, it can take up to 1-2 minutes for it to load now. Not too bad, but it can seem like forever when you need to run a report or enter a new vendor in a rush."
Pricing
Contact MRI for pricing information.
7. TenantCloud
TenantCloud is a property management software solution for small, independent landlords. It's best for collecting payments online and advertising vacant residential properties.
Pros
Offers a free basic plan.
Easy-to-use interface that's designed for small landlords and residential tenants.
Can sync with QuickBooks online.
Cons
Not designed for commercial real estate or complex property management.
Only offers basic accounting tools.
Pricing
TenantCloud's starter plan is free. Its paid plans start at $12 per month and go up to $40 a month for the business plan.

8. RentRedi

Similar to TenantCloud, RentRedi is an affordable property management software designed for small independent landlords.
Pros
Offers web and mobile apps for landlords to collect rent, list properties, and screen tenants.
Includes tools for managing maintenance requests.
Provides live customer support.
Cons
No accounting solution or integration with QuickBooks. Instead, RentRedi partners with REI Hub, which users can pay an additional fee to use ($15-99/month depending on the number of units).
Pricing
RentRedi pricing starts at $19.95 per month.
9. Entrata
Entrata is a property management software provider with a single-login, open-access Platform as a Service (PaaS) system. It offers a variety of online tools and serves more than 20,000 apartment communities nationwide.
Pros
Strong selection of third-party integrations.
Ideal for multifamily properties.
Provides daily training webinars and also offers on-site training.
Cons
Limited functionality on mobile devices.
Long, complex implementation process.
Many reviewers on G2 and Capterra report that Entrata's software tends to be glitchy and slow.
Pricing
Contact Entrata for pricing information.
Choose Re-Leased, the powerful alternative to AppFolio
When choosing between AppFolio Property Manager alternatives, remember to think carefully about your needs. Where exactly is your current system falling short? What manual processes do you wish your software could do?
If you manage a commercial property, Re-Leased could be a great fit because it was built for commercial real estate from the ground up. We strive to keep you one step ahead with continual product innovation and enhancements, driven by market insight.
Plus, we can accommodate your growing business. By trusting Re-Leased with your core operations and connecting it to the leading cloud solutions you need now and in the future, you'll have one central hub for commercial real estate that grows with you.

FAQs

1. Is AppFolio a SaaS company?
Yes, AppFolio is a software-as-a-service (SaaS) company that primarily focuses on cloud-based property management services and data analytics for the real estate industry.
2. Does AppFolio have an open API?
AppFolio does not have an open API. This means you can't easily integrate AppFolio with another property management solution.
3. Does AppFolio do payroll?
AppFolio does not have a payroll function, so you'll need to use another accounting program to do payroll.
4. Can you use residential software to manage commercial properties?
While you can use residential software for your commercial investments, it typically leads to performing a lot of manual processes outside of the system in spreadsheets. Residential software usually isn't built to handle all the intricacies of commercial properties.