NEWS: High Growth and Innovation Drives Re-Leased as it's Named Best of British Business 2019
Re-Leased 03 August 2019
Distributed with the Telegraph, Re-Leased is bestowed the Business Reporter's Best of British Business 2019

Re-leased Software has recently been featured in Business Reporter's Best of British Business 2019.
The companies featured have all been bestowed with the Best of British Business accolade and have been included on a strictly invitation-only basis.
This features companies who have been achieving and demonstrating growth – who through their enterprise are driving the UK economy forward.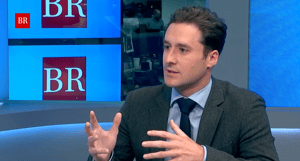 Richard Kennedy, Re-Leased's UK Managing Director says "As a team, we are very pleased to receive the Best of British Business Accolade.
We are very passionate about the role that Re-Leased is playing in transforming the property management industry and subsequently strengthening British businesses."
The UK business community is busy guessing what 2019 will bring. Whether we should prepare for a hard Brexit, a soft divorce from the EU, or even a second referendum, is still – remarkably – being negotiated.
But while the heated debates behind doors and in public continue to rumble on, British businesses are getting on with trying to ensure a better, safer and richer future.
Alistair Greener from the Business Reporter, discusses Pioneering the Modern Era of Property Management with Richard Kennedy and Jo McBrearty, Product Analyst, Re-Leased UK.
"New talent who have grown up with technology in their everyday lives are coming through the ranks and expecting to use modern technology in the workforce. Tenants and clients are driving change.
"They are demanding flexible leases and a higher standard of technology within the whole package of leasing a property. With automation, you can transact an infinite number of tasks completely, accurately and timely. You're investing your capital more effectively and efficiently," says Richard Kennedy.
Read the full Business Reporter Article.