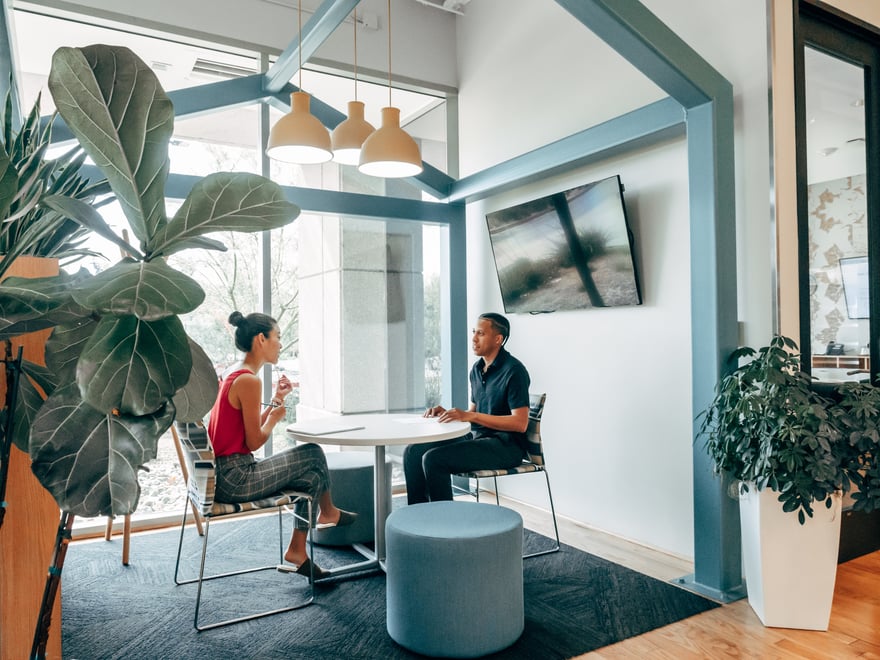 Delivering the Services Workers Now Expect: Maximising Office Tenant Attraction and Retention in Australia
Re-Leased 26 August 2021
*This is an excerpt from our report the The Next Era for Australian Office Owners and Operators. You can view the full report here.
Tenants will now lean on property owners and managers to be proactive in creating spaces and supporting the implementation of technologies focused on improving a building's safety and workability.
With that comes the need for investment to update what currently exists or to factor it into new buildings at a time when landlords have experienced a tumultuous year. Antony Slumbers, co-founder of Real Innovation Academy, is adamant that now is the time where building operators and owners must act with their wallets and provide what is now expected.
"Landlords, in historic market downturns, always pull out the same playbook: reduce overheads, cut capex, minimise expenditure. Hunker down, survive. But this time is different. The only way through the crisis will be by spending money on upgrades to ventilation systems, on new materials, on new hardware, on new fittings and furnishings, on new cleaning regimes, on communication, on data, on analytics, on interactions with customers, on increased staffing, on new business models and new ideas about what constitutes 'the office' and even 'work' itself. In a sentence, everything that we know we should have done over the last ten years but have not had to, we need to do now."
As we have shown, high-quality space is in high demand and companies who desperately want to bring employees back to the office will be willing to pay a premium. Logistically, this may lead to more of a gross lease arrangement where one figure includes rent and service charges. It is an approach that many coworking providers take and typically covers everything from cleaning and coffee to the internet and insurance. If lease agreements move towards this, it does signal yet another step towards landlords becoming service providers. And that is a development Simon Hayes believes is on the way.
"In the past landlords have just had space and the tenant rents it out. But it's now evolved and people are leaving offices and asking, 'Why do I need to have a space?' or 'Why do I need to go to that office?'

All of these buildings look similar but what else is there now? Co-working spaces have been a success in particular for small businesses because they would typically have significant setup costs and the headaches of those. But if you have something set up already and you can just tap into that, that will appeal to businesses. If you extend that approach out to larger level companies but provide a bit more control and more sophistication, then that's where opportunities are for landlords."
The building services quickly becoming must-haves for companies in a post-pandemic workspace:
High quality air and ventilation
Sufficient ventilation systems play an important role in minimising airborne pollutants and infections to create a safer working environment, especially following the pandemic.
Office occupants now expect a higher level of consideration for their wellbeing, and this extends to the air they breathe. As a result, building owners will need to review their ventilation systems and adjust them accordingly and new building developers will need to bring these considerations into the design of office spaces. Implementing better ventilation, enhanced by particle filtration, is a key strategy in getting people back to the office safely; this way, the likelihood of transmission will be reduced and employees will feel more comfortable.
Occupancy monitoring technology
Occupancy monitoring has long been a valuable tool in office-based organisations, using smart sensors to gather data and gain insight into how a space is being used.
Occupancy monitoring is an effective way to ensure that all employees have the space required to remain a safe distance apart. Using these analytics, it's possible to identify places which become busier at certain times, such as lunch areas, or surfaces that are used regularly, such as door handles.
Using this real-time data to impose limits on the number of people allowed into the office will be hugely effective in protecting tenants from person-to-person transmission.
Importantly, displaying occupancy data gives choice back to employees, letting them see the occupancy of the space prior to coming in and while in the office. Being able to make data-driven decisions about where and when to work gives employees peace of mind so they feel safe and comfortable in their workplace.
Smart cleaning
Employing a smart cleaning system will ensure cleaning is carried out effectively. Installing sensors throughout the building will mean that cleaning is tracked, and areas of potential transmission can be identified.
This data can also be used to create a smart cleaning schedule, and implement a system to raise alarms when conditions fall outside the established parameters. This way, the space can be returned to optimal conditions as soon as possible. Creating a dynamic smart cleaning schedule will also make the best use of the cleaning team's time.
Moreover, implementing a smart cleaning system will benefit the bottom line too. Smart maintenance is estimated to reduce equipment repair costs by 40-60% annually.
Touchless technology
The pandemic has made us all acutely aware of everything we touch in public spaces, with hand sanitiser available at every opportunity. Touching communal door handles, kettles and handrails in the office used to be unremarkable, but this type of contact is now a major point of concern for employees returning to their workplace.
An effective way of minimising the need for physical touch and risking virus transmission is through implementing touchless technology.
Taking this step can alleviate hygiene concerns across a range of spaces within the office, from touchless sign-in, and employee QR codes to automatic doors and touchless lifts. Companies such as Lavazza and Nestle are already rolling out smart technology in response to the need for touchless devices, creating new machines with integrated sensors so that employees can make their morning coffee without even having to press a button.
The Next Era for Australian Office Owners and Operators report has been specifically designed for everyone within the Australian office ecosystem. Our experts have packed it with relevant research and timely insights. We are sure you will leave with at least one actionable insight or tip.