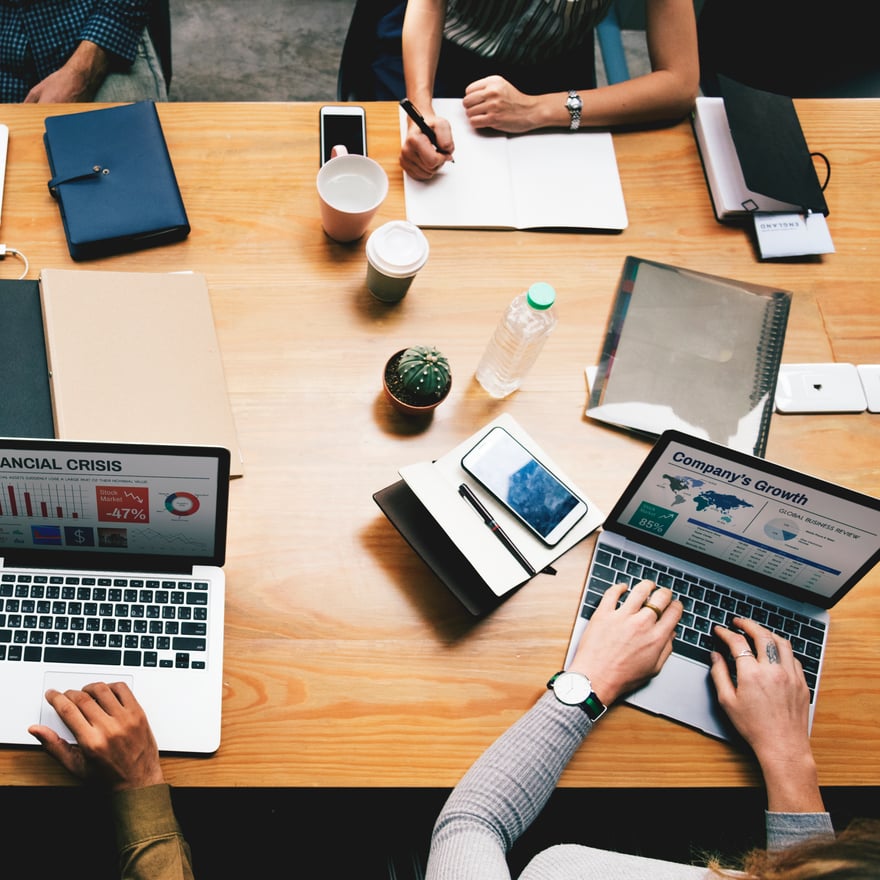 Macquarie Bank Executive: Agencies Who Use Cloud-Based Software Can Double Their Property Management Income
Nathan Stanogias 06 September 2018
In the Macquarie Bank Building the business of tomorrow 2018 Commercial Real Estate Benchmarking Report, it's outlined that 7/10 agencies have increased profits, with 82% anticipating further revenue growth in the 2018 financial year.
This is a sign of a healthy industry and an indication that commercial property management is adapting favourably to change. The way tenants, landlords and property managers communicate is now far more efficient, and manual admin time has been drastically reduced through the implementation of cloud-based software platforms that are purpose-built to automate property management workflows.
What remains a constant theme in the industry is that competition is fierce. It is forcing agencies to innovate to stand out from their competition, leading to an increase in results-driven thinking. As outlined in the Benchmarking report, it has been discovered that a clear recognition of the significance of world-class talent in relation to business growth is critical.
Steven Marinucci, National Head of Commercial Real Estate and State Segment Head (QLD) for Macquarie Business Banking, says that among the array of factors causing change in the commercial property management market, growing cost pressures are arguably the most pronounced.
"Commercial property managers need to innovate simply because there is a pressure on cost, broadly in the industry. They have to be more efficient in their back office processes, too, as investors are starting to question all fees that they're getting charged. If competition comes in and starts to cut commission they need to be at the forefront to run leaner businesses to increase their profitability."
Mr Marinucci says that landlords are tightening up the way they assess the output of their property managers to ensure they are extracting maximum value out of their portfolio.
"Investors aren't getting the same level of ROI and are looking at all different aspects on their commercial property. There will be competitors looking to reduce their fees to win business. You can't lose sight of value – the value that a lot of commercial property managers bring is ultimately their leasing capabilities, but there will come a time where the investor will start questioning how much they are paying for what they are getting. It is an interesting market in that respect. The good operators can afford to change."
As commercial property management agencies continue to enjoy steady actual and forecasted income from existing revenue streams, referral opportunities and prospective clients, they are increasingly benefitting from a rise in market-wide productivity. This is allowing agencies to essentially revisit their fee structures.
Mr Marinucci highlights the shift in thinking for commercial property managers, as they look to separate themselves from competitors through the identification of recurring revenue streams, such as conveyancing, for example.
"We've done around one hundred and ten transactions of acquisitions and mergers, and what's happened is businesses have become bigger and more efficient through technology, and are lowering their costs by scale. 97 per cent of the transactions we have done have been based on recurring income. Other commercial agents are looking at other recurring revenue streams. For example, in legal, there are other streams like conveyancing.
"Ultimately in an ideal world, a business's fixed costs should be covered from their recurring income, which is essentially the value of their business. It is all about trying to change the mindset of commercial property managers. Consumers spend 5 and half hours a day on their mobile devices, so it's about how you adopt to new tech by being mobile and ensuring the client experience is fantastic. And if it is, they are willing to pay a premium for a service."
Commercial property management software (or PropTech) is a fundamental variable in increasing agency productivity by automating daily tasks and increasing revenue-driving staff output.
It is commercial property software that is providing agency management teams with the tools required to act strategically by working on (rather than in) the business. As highlighted by Macquarie Bank, 40% of property management companies see adopting cloud-based software as a high investment priority for the next 12 months.
Mr Marinucci says that with the increased adoption of property management software and various technologies, commercial property management agencies are enjoying positive business outcomes.
"Software obviously provides a platform to run a much more efficient business. There has been examples where some businesses have used a cloud-based software that have doubled their property management income without the need to employ more staff simply because their back of office efficiencies has meant that people who were in admin-based roles have been put into income-producing roles.
"And rather than letting go of them, they have allowed staff to grow into business development roles and be more customer-facing. It doesn't mean that there are less people in the industry, it just means that more people are focused on incoming-producing roles."
Cloud-based property management software, such as Re-Leased, is designed to save time, reduce costs and provide financial insight into the health of the business, its portfolios and its staff output. Re-Leased's award-winning integration with Xero allows users to connect their property management to their accounting. It's a one-to-one property management system that is driven by the power of automation.
Re-Leased's integration with Xero saves customers tens of thousands of hours spent on financial admin tasks – such as invoicing and reconciling – allowing for time to be spent on high-level activities, or income-producing activities, as Mr Marinucci frames it. Alternatively, Re-Leased's trust accounting functionality provides commercial property management agencies the ability to upload their bank files from the system, which ultimately speeds up their disbursement process.
Re-Leased users can opt to use Macquarie Bank's DEFT platform, which is a secure payment system used by businesses to improve their cash flow and to make the process of payments more efficient. BPAY with DEFT allows customers to pay the way they prefer, whether through credit card options or BPAY, which accelerates payment times.
According to Mr Marinucci, holistic automation of property management and financial tasks is the key to saving time and money.
"There are some stats that say it requires around 30-60 per cent of the business's time to do trust accounting tasks. By automating with property management software it literally can be a 5-minute job in the morning, as opposed to a full time job. It is a massive saving. It also eliminates the chance of error by using a trust account system as it is designed."
The benefits of Macquarie Bank's DEFT platform are in abundance for commercial property management agencies – it facilitates the process of automating key financial tasks, such as transaction matching and reconciliation, and automated payment files and bank statements. DEFT offers security, freedom of operation, admin time reduction and ease of use, which aligns with the infrastructure of Re-Leased's software solution.
As noted in Macquarie Bank's report, property management best practice is to do the following moving forward: get the property management platform right (research the system's capabilities and how it aligns to the business), diversify and add value, and prepare for a changing market.
Jana Hood, Managing Director Australasia for Re-Leased, highlights the trends in property management agencies embracing a digital-first approach. She notes that in an industry so sorely needing disruption, it's the best performing businesses that adopt technology platforms to accelerate their growth.
"We are seeing an increasing trend in our customers asking for ways to differentiate in the market. They know the industry is ripe for disruption and they are looking to us to help them find new opportunities. As Martin Lakos mentioned at the Macquarie Benchmarking Event, people are now expecting to do everything on their phones and tablets. We know that to not just survive but really thrive, businesses will need to embrace the fact that people now expect information at their fingertips.
"Property management agencies are also recognising the importance of streamlining their processes. The top performing agencies realise it's not about cutting costs by reducing staff, its about retaining quality staff and better utilising their time on activities that increase revenue which means they have to be more efficient on the administrative tasks."

––––––––––––––––––––––––––––––––––––––––––––––––––––––––––––––––––––––––––
---
---
Our eBook Your Guide to Transforming your Property Business with Technology covers what your peers are doing to maximise productivity and why you need to adopt technology now more than ever. Click 'download now' to get your free copy delivered to your inbox...

Senior Marketing and Content Specialist @ Re-Leased. Former Journalist, Editor, and Founder of Your Content.