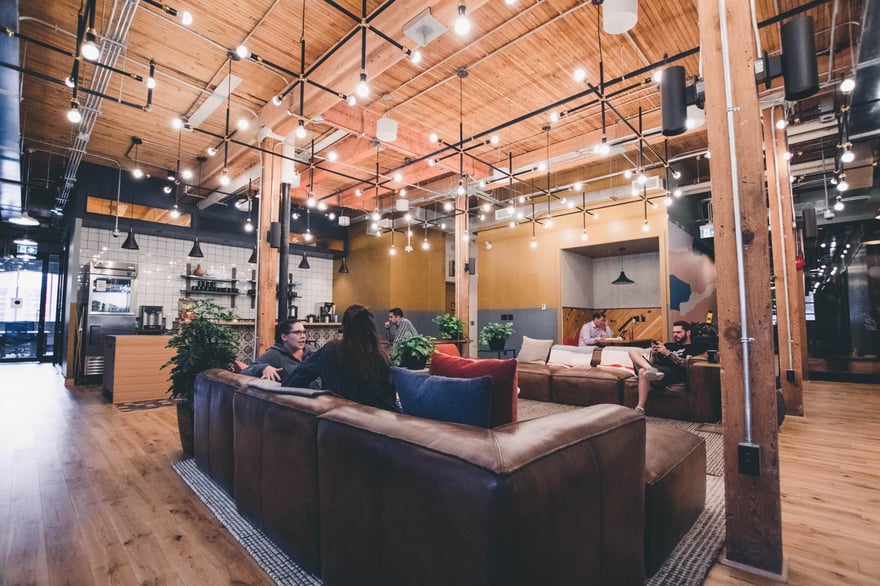 Maximising Your Office Assets in Australia: It is Time to Adapt to the New Office
Re-Leased 26 August 2021
The office asset class in Australia is at a unique inflection point as investors understand the growing need to adapt, and it will be those willing to make changes who will benefit the most.
Data from the CREDIA Index shows that the potential vacancy risk as a percentage of tenant count has been steady for New South Wales, but is slowly rising in Victoria and Queensland.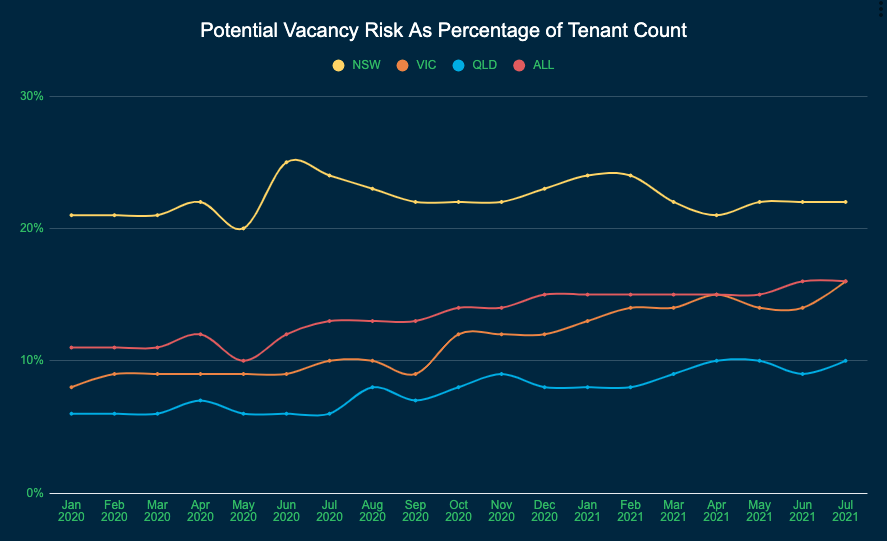 Companies and their workers have been returning to their offices in some form but this reflects a potential turning point in tenant demand in times of great uncertainty. These are some emerging trends for owners, developers and managers to understand.
High demand for quality spaces
The shifting tenant attitudes highlighted in the first section of this report signal a strong desire for higher quality spaces.
The types of building features and amenities that were one considered extras or premium offerings are quickly becoming part of the standard list of requirements. These are things like end-of-trip facilities, cafes and restaurants, gyms and wellness amenities as well as a greater focus on environmental sustainability.
Net zero buildings, which help companies meet their environmental commitments, were already in demand before the pandemic and their appeal has only increased in the last 12 months. This presents an opportunity for developers and investors looking to build smarter, greener office spaces. Accommodating tenant ESG requirements will quickly become a new baseline.
A variety of technology offerings are emerging that can support office developers and occupiers to meet their ESG targets, says Bengt Johannes Lundberg, CEO at Disruptive Technologies:
"Building owners, managers and tenants will need to show the steps they are taking to contribute to ESG. This can be enabled by using sensor technology with real-time connection to building management systems thus helping to reduce the carbon footprint of your assets."
Investors and facilities managers who start future-proofing their portfolios now will create solid foundations for above-average performance and stability. Even in the current market, green buildings can yield up to 23% higher occupancy rates, 8% higher rental income and 31% higher sale premiums than traditional buildings, according to the World Bank. This premium is only going to grow as stricter regulation and consumer demand pose risks of obsolescence for older assets and portfolios that fail to adapt.
Dexus backs a flight to quality
ASX-listed company, Dexus, the biggest owner of office towers in the country, is one investor who is backing the demand for quality and said this in a March 2021 quarter update:
"Tenant enquiry and activity across our office portfolio has been strong particularly for smaller tenancies, and larger occupier briefs are starting to emerge. The significant number of leasing transactions completed during the quarter is encouraging and highlights the demand for quality workspace in well-located CBD assets."
Earlier this year, Australian company Atlassian announced that they will only require employees to report to the office four times a year, embracing a remote-first culture. But at the same time, the tech giant has recently signed a deal for a new $1.4b HQ in Sydney's Central Station tech precinct. This followed Google's announcement that it will spend $9b on new buildings, doubling down on a return to the office.
Is it time to operate co-working spaces in your building?
Creating office suites or a co-working space within a building could also be attractive in the sense that it will entice companies without a full-time space but it also gives existing tenants an overflow area if needed.
With some companies looking to downsize their permanent space, this is an approach that could appeal to tenants by giving them greater flexibility, according to Brad Krauskopf, CEO and Founder of Hub Australia.
"Landlords should consider allocating a certain amount of space to flexi spaces and getting creative with how they operate. Look beyond your asset and provide tenants with access to other offices and spaces. Landlords will still need to obtain long leases but will need to provide additional value and provide new options. They could look to work with other flex space operators to build their network to help support their tenants' needs."
Tom Wallace, CEO of Re-Leased, which has offices across Australia, New Zealand, the UK and the USA, says traditional owners can learn a lot from shared space providers.
"There will be a transitional period as property owners and managers seek to better understand tenant needs and how they can cater to these in a sustainable way. One thing has been clearly proven by WeWork, Hub Australia and other co-working spaces: you can charge a premium for your product if it is high quality and meets the expectations of tenants in today's environment. Whilst demand for traditional office space with long leases will continue to fall, the demand for premium products will only increase going forward."
The Rise of the Hub and Spoke Model
The 'hub and spoke' office model is more frequently becoming part of the dialogue around CBD office markets for investors, owners and companies as the nature of work changes. This model is based on a company having a central, main office (the hub) in a city centre, with smaller, satellite offices (spokes) in suburban areas where workers live.
It is a model centred on offering greater flexibility to customers as they rethink their office strategy. Having spoke or satellite offices outside of the central city not only provides greater choice to workers, it expands a company's potential talent pool, while also bringing more footfall to smaller towns. This provides an opportunity for investment in areas on the city's outskirts that will support this model.
Sean O'Connor from BTP Workspaces, which provides office space at Brisbane Technology Park, says the CBD will always be the 'heart of business' but there are merits to incorporating satellite offices.
"We are always going to have the CBD, the tall buildings and that's going to be the place of the heart of business." For larger businesses, having a small office on the fringe of the city, means their employees don't have to come all the way into the city. It could also be easier to find these spaces to lease. From a productivity standpoint, getting workers into a smaller satellite office can give companies some reassurance that employees are able to conduct business in an office atmosphere, rather than having less visibility when staff are at home."
Simon Hayes, Director at PwC Australia, echoes the importance of a central office but suggests a slightly different approach to how companies could adopt the Hub and Spoke model.
"There will always be a central office with the executive arm and the supporting roles of that, but you could also have satellite offices focused on certain operational functions. Those roles that don't have to be in the central office could then dictate the type of space the company would need for a satellite office."
---
---
---
Liked this excerpt? Get the rest of the report today!
Click the link to get the full report sent directly to your inbox.