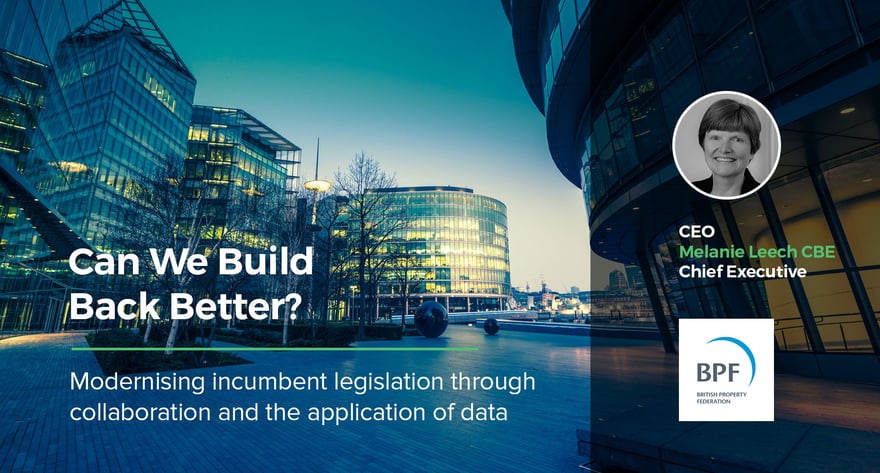 Can We Build Back Better?
Melanie Leech 09 December 2021
The real estate sector is a fantastic asset for the UK, one that for decades has attracted inward investment from around the world. As the UK emerges from the coronavirus pandemic, the government will be looking to the private sector to partner up and help the drive to build back better, by deploying capital to support ministers' agenda.
A modern, fit-for-purpose real estate sector has to be a fundamental part of that process. The British Property Federation's role of engaging with the government around building back and building better will be focused, co-operative and forthright. And never more important.
As ministers turn their minds from crisis management during the pandemic towards setting out a plan for the future – and then carrying it out – the BPF on behalf of the real estate sector will be one their key economic and social partners. We will be proactive in presenting the government with potential solutions and highlighting opportunities. We are prepared to have a robust dialogue with government departments where necessary.
For example, the Landlord and Tenant Act currently is not fit for purpose. We know this, because a lot of leases are signed outside its remit. So we will be generating ideas around what we think the legislation needs to look like in the future.
Ideally this process will involve working in partnership with our occupiers. This will prevent the debate becoming one that centres on protecting a landlord's rights versus protecting those of the tenant. Instead, it becomes a conversation around what is a modern, fit-for-purpose piece of legislation, one that will enable stable and healthy economic relationships between landlords and tenants for many years into the future.
The sector also needs to lean into change. We need to help the government and drive it towards creating the legislative and regulatory framework and the policies that will deliver the outcomes we all want. We also have to be sensitive to what the government itself wants to achieve.
We should also be outlining to government a legislative framework that enables such creative solutions to thrive.
We should illustrate how occupier and landlord interests can be aligned around issues such as net-zero carbon buildings, both in operations as well as during its construction.
As well as calling for such outcomes from the government, we have to be unafraid to have the spotlight shone on our sector, responding responsibly and creatively.
Flexibility within the sector itself will be a key part of this. Buildings will need to be much more flexible, as will leases. How buildings are used will change. I know of one operator who is contemplating a building it is developing having four different uses over a given 24-hour period. Such an approach might have been unthinkable just a few years ago.
For its part, the government will need to unleash the power of the market and the private sector. This is crucial to the success of the levelling up agenda and the reinvigoration of town centres, for unless ministers are prepared to think radically around the mechanisms that will unlock private sector investment, the government's ambitions will fail.
The real estate sector can get better in its use of data. As an industry we have been behind the curve in terms of thinking how we can harness data and use it as an asset.
There has been a mindset around protecting what data we hold, even if we don't quite know what to do with it. This was a factor in creating a technology and innovation working group at the BPF a few years ago. The working group's goal is to change the mindset around the use of data, and make people more aware and more connected.
It has helped that the sector has begun to hire people from outside the industry who have specific data experience. However we are a long way from having the sort of conversations with the government that address the power of data in terms of how it could be used to tackle some of the challenges around issues such as sustainability.
Download the full report here: