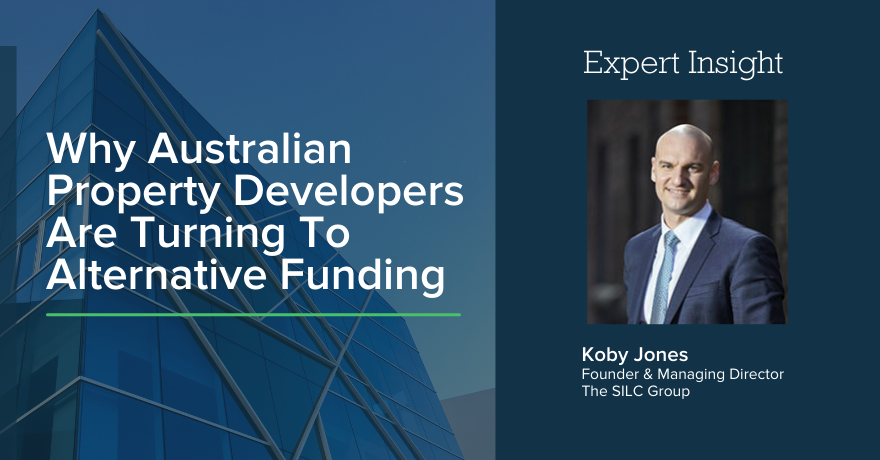 Why Australian Property Developers Are Turning To Alternative Funding
Re-Leased 02 November 2021
Although Australia has done remarkably well throughout the COVID-19 Pandemic, access to capital from traditional banking channels has become more difficult than ever. At the recent RSM Melbourne Property Summit, Koby Jones, Founder and Managing Director of The SILC Group, hosted a session to discuss alternative funding solutions for Australian developers and investors. Here are some of the highlights.
Property financing challenges & private market opportunities
Australia's domestic market has experienced almost 30 years of uninterrupted economic growth. In addition to offering an excellent quality of life, it benefits from being a politically stable country and a highly-regulated business environment with strong economic credentials, low sovereign risk, and a mature and innovative fund market.
Yet although Australia has the advantage of a strong economy, the restrictions that the Australian Prudential Regulation Authority (APRA) has placed on banks to limit their growth has caused a ripple effect in the market.
Jones says these limitations have caused a vacuum in the middle of the market and that an opportunity exists for developers, asset sponsors and property participants to create their own funding solutions.


Creating your own funding structures
The lending market in Australia is dominated by the four major banks. When compared to the US and Europe, non-bank lenders make up a small percentage of this landscape. Jones says this is creating a huge opportunity for private market participants to create funding pools in order to fill that void.

"The appetite is there from an investor perspective to deploy capital into Australian based projects assets and sponsors either directly or on a syndicated fund basis."


Why use a managed investment scheme?
Managed investment schemes are one answer to this traditional funding shortfall.
"A managed investment is quite simply a pooling or aggregation of investors' capital and then a deployment of that capital across a single asset or portfolio of assets. It provides investors the opportunity to diversify their capital. They're professionally managed, there's transparency, there's governance, there's oversight, there's regular reporting. And it's also a convenient structure for investors to be able to get exposure to a multitude of different underlying assets versus investing directly into a particular asset."

Types of managed investment schemes
When considering a managed investment, there are a variety of schemes and terms to consider:
Project / asset specific: A Fund created for each specific project or asset that investors can select from individually.


Pooled project / assets: A Fund that is an aggregation of projects or assets which provides access to a larger variety of investments versus a direct investment.



Close-ended:

A Fund which raises monies that is usually invested for a defined period in a specific project/asset or pool of projects/assets.



Open-ended:

A Fund which can continually raise monies to deploy into projects or assets on an ongoing basis.



Terms:

The specific conditions of the Fund which defines how or where monies can be invested.



Duration:

The period of time for which that Fund is investing capital.



Creation of Opportunities:

The Fund can also be established to be a developer of projects or an owner of assets.


Why look outside the banks?
In essence, we are experiencing a challenging environment and the responsibility is on businesses to pivot and think outside of the box. Without discounting the traditional banking channels, Jones says property businesses should be considering alternative funding options which may allow for more flexibility.

"You don't want to be determined by market conditions or the slowness of engaging with the traditional funding of banking channels. It's a real opportunity for various market participants to create these structures which can allow them to raise that capital and deploy that into their projects and assets."

"Cost of funds is really important for any development and clearly you can't get any cheaper than through the traditional banking channels. But they're not necessarily going to be as flexible. Whether it be loan to value ratios or pre-sale requirements or the location, there could be numerous reasons as to why a bank won't fund at a given point in time. Creating your own funding structures just gives you that flexibility and empowers you to be in control of your own endeavours."

To learn more about alternative funding solutions and how to set up managed investment schemes, watch the full session recording with Koby Jones HERE