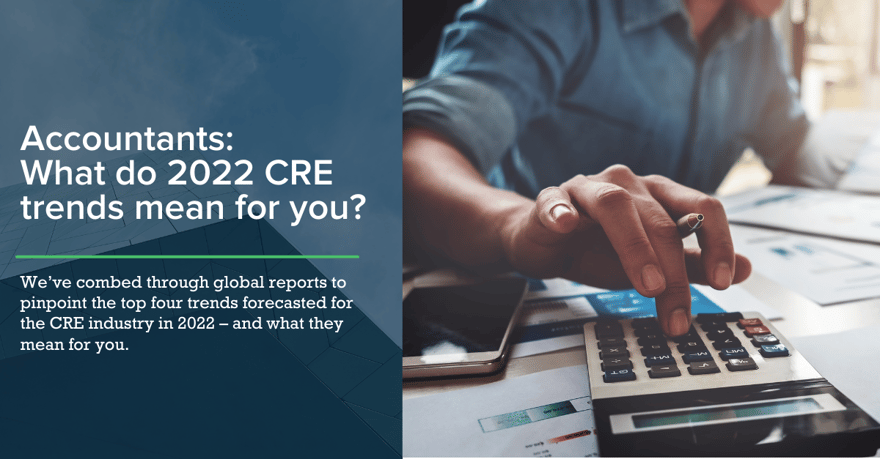 Accountants: What do 2022 CRE trends mean for you?
Re-Leased 04 February 2022
When setting your practice's goals for 2022, it is important to understand what your clients' priorities and pain points will be in the coming year. Knowing what's ahead for your clients will allow you to give more proactive business advice and help you to anticipate how you will need to adjust your advisory offerings to better serve your clients.
We've combed through global reports for accounting firms serving CRE clients to pinpoint the top four trends forecasted for the CRE industry in 2022 – and what they mean for your accounting practice.
1. Data is necessary to get ahead.
According to a study by Deloitte, "most firms continue to depend on legacy technology systems, which could hamper progress and their ability to innovate. Eight in 10 respondents do not have a fully modernized core system that could easily incorporate emerging technologies." However, as businesses begin to prioritize the need for data to grow quickly and efficiently, they are realizing the need for better technology tailored to their industry that can provide them access to live, integrated data to help them make better and faster business decisions.
What this means for you:
There is an opportunity for you to be a technology expert and advise your clients when and how to adopt integrated-cloud solutions. Begin preparing for this now by educating yourself and your team on property management systems that integrate with the accounting systems you already utilize. Equipping yourself with knowledge now will enable you to help your clients to grow their businesses more efficiently, while making collaboration and communication between your clients and your firm easier.
2. Real Estate is now being considered a service.
The real estate industry is becoming increasingly tenant led as a result of the pandemic, and tenants are demanding more flexibility and a better experience. Deloitte notes that "Building partnerships to provide new offerings to tenants can also enable real estate-as-a-service (REaaS). Over three-fourths of respondents say their companies will likely expand partnerships with or invest in Proptech, which could help firms deploy the REaaS delivery model."
What this means for you:
For the office, retail, and leisure real estate sectors, it has become a tenants' market - So what are your clients doing to stand out from the crowd and secure leases? Help your clients simplify the leasing process to make it quicker and more transparent by implementing technology that allows for easier communication between landlord, tenant, and accounting, to mitigate risk and give your clients a competitive advantage.
3. Environmental, Social, and Governance (ESG) values are of high importance.
According to the PwC Emerging Trends in Real Estate 2022 report, the real estate sector is the largest contributor to greenhouse gases and global warming. Buildings account for upwards of 40% of global energy use and carbon emissions. This means that CRE leaders and investors should ideally prioritize their role in helping reduce the impact of climate change's worst contributing factors. According to the report, 82% of Emerging Trends respondents say that ESG is an important factor to them when making operational or investment decisions.



What this means for you:
Investors and property owners are being held accountable for this newly developing social responsibility through the reporting and data transparency they can provide to their stakeholders. Your ability to provide them with airtight financial reports and advise them on solutions that remove human error from reporting systems and locate data more easily will make you invaluable to your clients.
4. Low industrial vacancy rates are causing rising rents and global supply chain issues.
As retail brands shift their focus to e-commerce and brick and mortar spaces see decreasing demand, the need for industrial warehousing is rising, and with it, the value and rent of these spaces.
"As we look forward to 2022, I think scarcity will continue to work in industrial's favor and remain a highly coveted investment sector. All major economic fundamentals, including historically low vacancy rates and cap rates...and meaningful e-commerce demand point towards another strong year for industrial."
- Nichole Welch, Managing Director, Clarion Partners (CommercialSearch)
What this means for you:
Your clients who are in the industrial sector will likely have excess capital to work with and will be well-positioned to acquire new assets and grow quickly. They will need to know where their financial data stands at all times and how their assets are performing. You are in a position to find them the solution that allows all their property and financial data to live in one centralized place, accessible via the cloud, for easy access and transparency across all functions of your clients' business.
Looking at the top CRE trends for 2022, one thing remains constant: an integrated property management solution can help accountants and their CRE clients stay ahead of what is predicted to be a highly competitive and growth-fueled year.