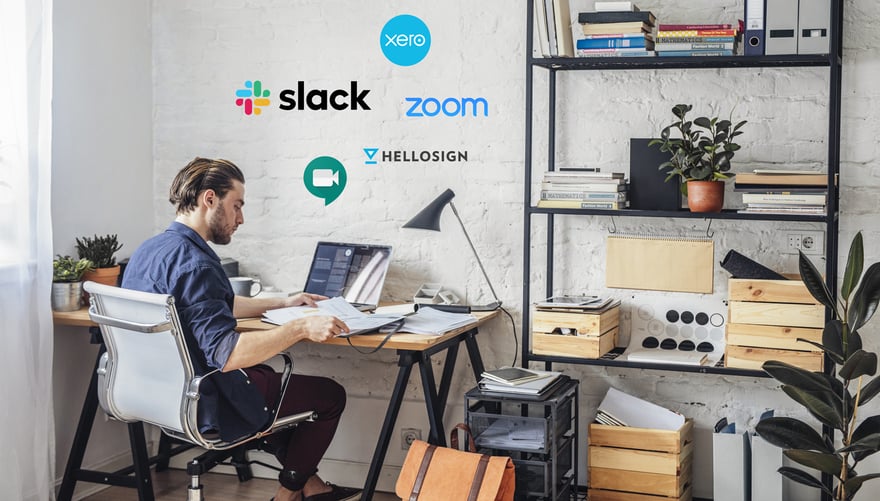 Top tools to support remote working for business continuity
Re-Leased 17 March 2020
We are now entering a period of the most extensive remote working test the world has ever seen. Hundreds of businesses globally are looking to transition their teams from office to home, with the desire to keep their clients and employees safe and productive.
The need to have a robust working from home strategy is now not a nice to have, but a must-have. This blog details the most cost-effective cloud apps to fast-track your team for remote working while ensuring business continuity.
1. Staff Collaboration
To ensure that all staff are working seamlessly on projects and keeping in regular contact without filling up co-workers inboxes, we recommend the following.

Office 365 - Microsoft Office 365 comprises of Outlook for email, OneDrive for document storage, Word, Excel, PowerPoint, OneNote, SharePoint, Microsoft Teams, and Yammer for collaboration and productivity.

$ to $$
or

G-Suite - An integrated suite of secure, cloud-native collaboration and productivity apps powered by Google. This includes email, calendars, file storage, spreadsheets, docs and many more features.

Free to $
Slack - An in

stant messaging platform designed to replace email as your internal method of communication and sharing. You can share information, files and chat via direct private messages or within team groups. It is also a great tool to inspire workplace positivity and interaction.

Free to $

Box - With Box, you can store any type of file in the cloud — from photos and videos to financial information — and access it easily anytime, anywhere. You can keep everything organised in folders, just like your desktop and securely stored in the cloud.

$
2. Virtual Meetings
Despite not being face-to-face, there is excellent software available to ensure that both internal and external professional meetings still occur smoothly. Here are our two favourites.

Zoom - Zoom is the leader in modern video communications, with an easy, reliable cloud platform for video meetings and audio conferencing, chat, and webinars.

$

Google Hangouts - As part of the integrated G-Suite google hangouts provides a video and audio platform for your business meetings. Connect with your team from anywhere. With easy-to-join video calls, you can meet face to face without the added cost of travel.
Free to $
3. Electronic Document Signing
Even when you're not in the office, contracts or deals still need to be signed, sealed and delivered. With Hellosign this can be done in seconds online.

HelloSign - A straight forward tool that lets users sign documents with legally binding e-signatures in seconds.

Free to $

5. Accounting
Cloud-based accounting software now offers all the functionality and reliability of desktop accounting, but with a plethora of additional benefits that only online technology can deliver.

Xero - Xero offers a cloud-based accounting software platform for SMEs. It is one of the most robust accounting platforms on the market. Xero HQ enables your accounting practice to manage multiple clients in one single platform. This means you can assign tasks to your practice staff, and collaborate with your clients in real-time. A tool for managing invoicing, bank reconciliation, inventory, purchasing, expenses, bookkeeping.
$
Full Cloud App Ecosystem Buyers Guide
If you have any questions about these apps or require any assistance on moving your business to the cloud, we are here to help and offer advice during this time.
You can access our more detailed buyers guide to creating your own app eco-system with cloud software here.