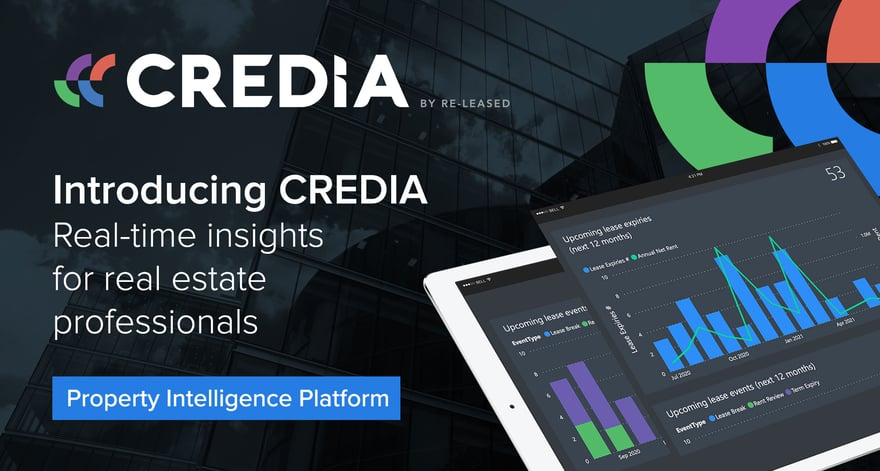 Introducing CREDIA by Re-Leased — a new real-time insights platform for real estate professionals
Re-Leased 20 August 2020
Product Announcement | CREDIA by Re-Leased
Re-Leased announces the launch of CREDIA (Commercial Real Estate Data Intelligence & Analytics), a new property intelligence platform with valuable real-time insights for real estate professionals.
With CREDIA, asset and property managers, or landlords and investors can access operational data and financial analytics that will enable faster decision making and more accurate forecasting, supported by evidence rather than gut instinct.
By having complete visibility of critical data, users can monitor the performance of portfolios on any device, anywhere, and easily share results and insights with those who matter most.
"CREDIA brings together Re-Leased's real estate experience and large scale data capability to offer a rich and personalised suite of insights and benchmarking for the first time," says Tom Wallace, CEO of Re-Leased.
"In the current COVID-19 climate, this sort of intelligence should not be underestimated and will be part of a wider toolkit that the industry needs to adapt and innovate. As we navigate through these challenging times, it's crucial that property professionals are armed with the right data and insights to make decisions that will optimise performance and revenue."
"Thousands of property managers and landlords across the globe have trusted Re-Leased to run their operations in the cloud since 2013. Now we are proud to be taking the next step to build out the cloud ecosystem for commercial real estate with CREDIA."
COVID-19 has challenged landlords, property managers and tenants alike, but it's spurred innovation and adaptation across the real estate industry and broader markets.

The CREDIA Suite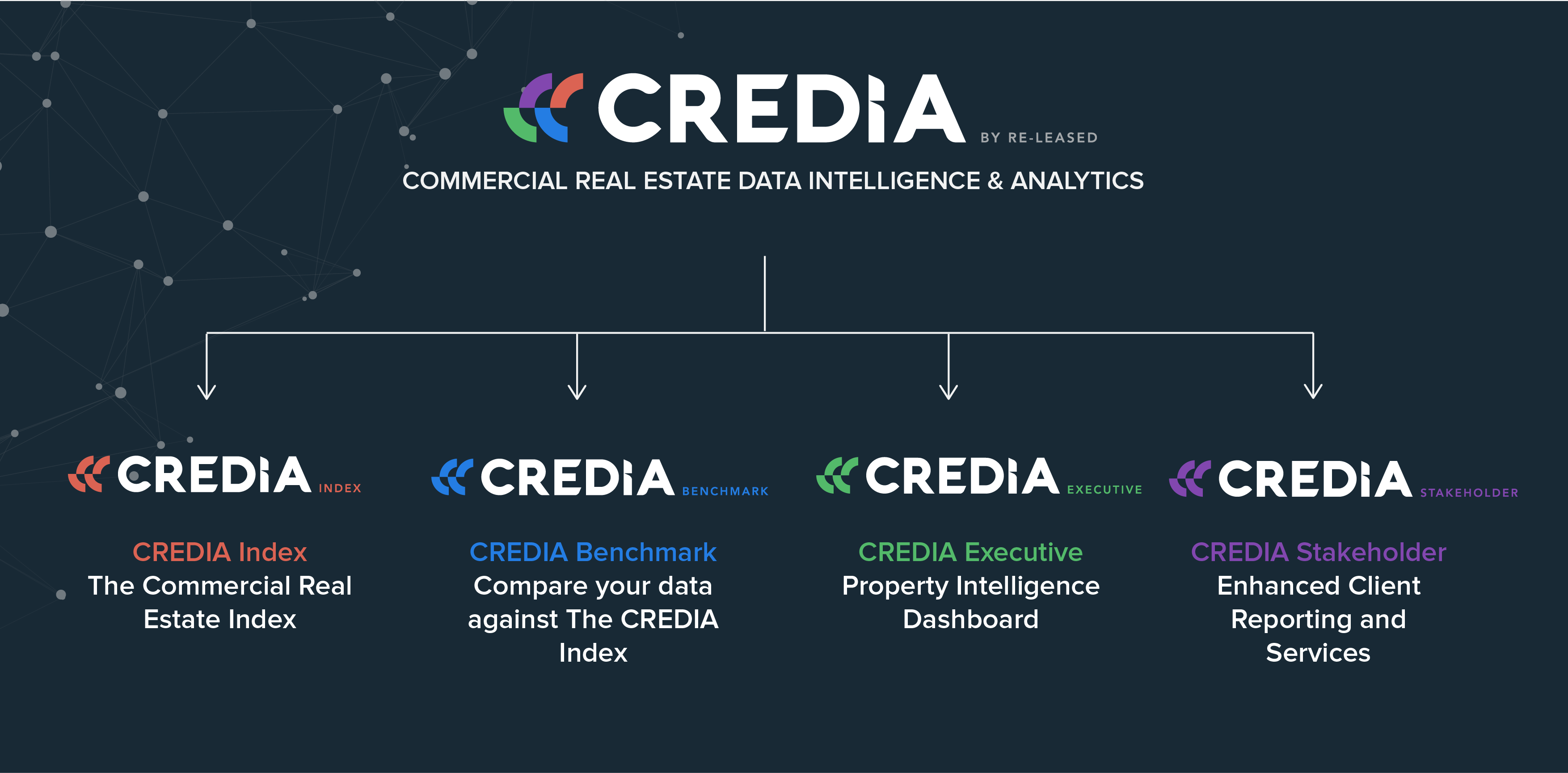 CREDIA Index | The Commercial Real Estate Index
Based on the positive reception of the COVID-19 Rent Collection market reports, we have developed a free to use monthly index as part of the CREDIA toolset.
Updated monthly, the CREDIA Index monitors more than 15 industry metrics on occupier performance, leasing trends and national averages — uncovering market conditions across asset classes in the United Kingdom, Australia, New Zealand and globally. It draws on one of the most extensive, aggregated and anonymised datasets in the commercial property industry, consisting of over 50,000 leases and 20,000 properties.
"COVID-19 is having a major impact on the commercial real estate market and the CREDIA Index can play a vital role in the industry's recovery by providing timely information to assist with decision making. The CREDIA Index provides a real-time view across a wide range of commercial lease performance indicators and will enable commercial landlords and property managers to compare their portfolio against the wider market," comments Wallace.
The CREDIA Index can be found in full here: www.crediahq.com/index



CREDIA Benchmark - Compare your data against The CREDIA Index
Coming soon, CREDIA Benchmark is a service which takes the CRE Index and overlays the subscriber's personal data so they can clearly benchmark their performance against the index in pdf format.



CREDIA Executive - Property Intelligence Dashboards
Use live, interactive dashboards that empower real estate management teams to track the ongoing performance of their business in real-time.



CREDIA Stakeholder - Enhanced Client Reporting
Reimagine client reporting with live dashboards and scheduled reports which allow property professionals to discover actionable value-add insights and track the performance of a client's property or portfolio in real-time.

Who is CREDIA designed for?

Property professionals are already finding value in having up-to-date market insights at their fingertips and using these to ensure they make smart decisions and deliver high levels of service for their clients.
"The market data produced by Re-Leased has allowed us to appreciate our rental profile payments in correlation to a wider UK trend during the current COVID period. Understanding our own rental data compared to the market data allows for better-informed conversations with our clients and decision making internally, ultimately providing a better service for our clients," says Rob Spencer, Director of FHP.


For Commercial Investors and Landlords
Measure the performance of your assets and commercial endeavours. Make decisions with confidence by applying visualised statistical evidence all from one dashboard. Uncover new opportunities by tracking performance trends and changes over time, and understand your performance against the industry standard.
For Asset and Property Managers
Take control of your operational data and become a truly data-driven company. Use real-time data to assess your team and business performance, enhance client reporting, and forecast the level of risk in your business and identify focus areas for efficiency gains.
For Real Estate & Economic Research
Use CREDIA to inform and educate your audience. The CREDIA Index and our regular Spotlight market reports are updated monthly to help shape an accurate and timely picture of the commercial real estate market.


Navigate uncertain times and beyond
The idea for CREDIA was born during the early days of the pandemic, and we hope it will become a positive legacy for all those who rely on a vibrant commercial property market. We know from our experience with landlords and property managers that having access to live, accurate data and insights has been incredibly powerful as they have navigated uncertain times around the coronavirus pandemic.
"Data is becoming an increasingly important tool in effectively managing commercial property and providing a quality service to our clients. A greater understanding of the market and improved reporting of our own portfolio performance with CREDIA places our business in a strong position for the future," comments Matt Hawtin, APL Property.
For more information on the CREDIA suite go to https://www.crediahq.com/ or request a demo here.
CREDIA in the News