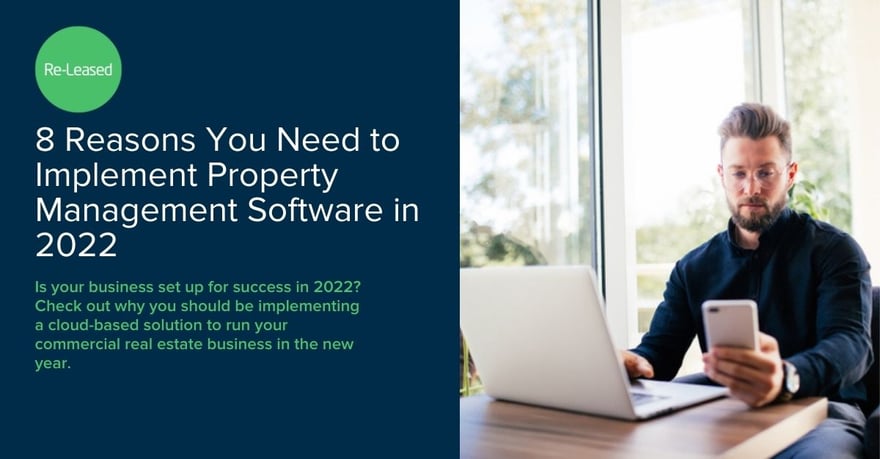 8 reasons you need to implement property management software in 2022
Re-Leased 14 December 2021
The most reliable way to grow a successful real estate business is to keep all of your properties in top condition and maintain a pool of happy and satisfied tenants. Whether you are an owner, property manager, or accountant, versatile, user-friendly property management software in 2022 can save you time and money and help you grow your business.
In this post-pandemic time, it's essential to maintain a flexible relationship with top-notch tenants, stay on top of maintenance needs, communicate proactively, and access your management software from anywhere at any time.
Here are 8 reasons why every real estate business should implement property management software in 2022
1. Automate daily workflow to decrease admin time by as much as 75%.
Commercial real estate management involves a series of repetitive manual processes. Whether you need to complete listing updates, prepare rent rolls, or accept and document maintenance requests, you spend plenty of time on the computer completing each procedure. With a property management system, you can cut down on repetitive manual processes and eliminate those pesky double-entry errors. You can also automate these tasks and complete them in seconds, not hours, boosting your day-to-day efficiency and saving you money.
2. Never miss a task, event, or appointment again.
Owning and managing commercial property is all about risk management. When you keep the building in good shape, your tenants stay happy. Consistent communication reassures tenants that you have their best interest in mind. With instant reminders and alerts, you'll never miss an appointment with an owner, tenant, accountant, or vendor. You can easily plan your calendar and stay on task with calendar integrations that sync to your phone and computer.
3. Unify your team and all your systems.
The best property management software has advanced user control that allows your team to collaborate across departments. This type of collaborative software removes the need for separate products to manage retail, industrial, or office properties. Team members can access all portfolio information on the tenant or the property in one place.
4. Access your information securely from any location and on any device.
Operating untethered in an ever-growing universe where remote access is the norm has allowed everyone to break free from a desktop. Property management software has even eliminated the need for expensive servers and external storage. Cloud software allows you to access your data online anywhere, any time, and from any smart device.
5. Expand your business with property management software.
Antiquated property management tools like spreadsheets and paper files make it hard to keep up with changes in regulations, lease agreements, payment terms, and CAM charges in commercial real estate. Tenants, vendors, and owners expect information delivery at a fast pace. With property management software, there are no slowdowns. You can respond to any questions almost immediately, fill maintenance requests on the spot, and accept rent payments instantly.
6. Learn from reliable, in-depth reporting and analytics.
Property management systems allow you to gain valuable and instant insight into different reports about property performance based on real-time data. Reporting on tenancy, property conditions, and portfolio performance can help your team monitor your business. Benefit from insightful month-on-month performance reporting, live P&L's, live actual vs. budget reporting, and common-sense task tracking for any compliance and lease events.
7. Make accounting easy.
Successful property management starts with keeping your tenants happy, and your buildings occupied; you also need to operate the business with top-notch systems. Property management software can keep your banking, invoices, and bills in line and on track. You can automate matching and reconciling transactions, create invoices and receipts, perform single and bulk distributions, manage client accounts, and automate owner and vendor payments with one system.
8. Provide tenants with solutions.
Managing commercial real estate comes with tenant issues. Tenants may have maintenance requests or concerns, want to automate payments, keep in regular contact, or need documents promptly. With the right property management system, tenant solutions are automated.
On an app or online, tenants can:
log maintenance issues and track the job
manage email communication
access their lease documents
pay their rent or view their payments
Tenants can accomplish this all in one place without direct, live contact with property management staff.
Why property management software in 2022 is a sound business decision
Property technology software development dramatically improved how properties are managed. Property management software is more effective, easier to use, and less expensive than 5-10 years ago. It's time to explore your options and find the best property management system to help you manage maintenance requests, rent payments, tenant communication, and much more. Using property management software can help make property management easy and profitable.
Are you ready to set your business up for success in 2022? Schedule a demo today.