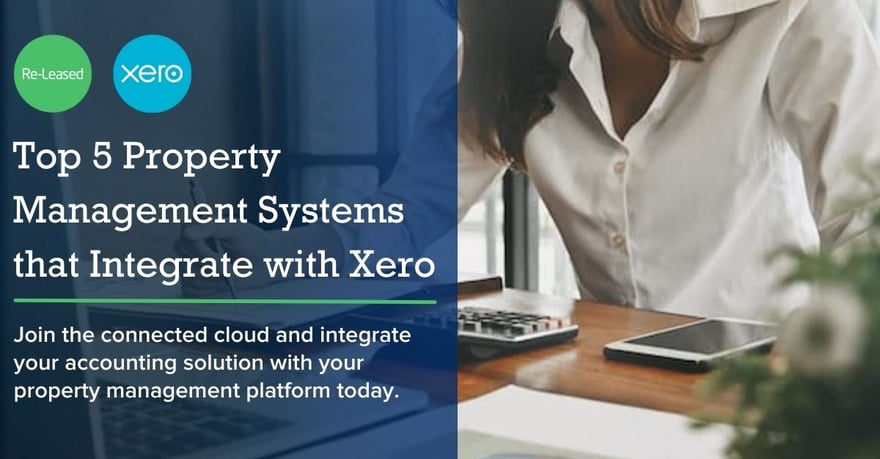 Top 5 Property Management Solutions that Integrate with Xero
Re-Leased 20 January 2022
In a time where most everything is digital, utilizing cloud-based technology to run your business is no longer a want to have, it's a need to have. Commercial property management software enables landlords and property managers to automate leasing, accounting, tenant management, operations, and marketing activities. Taking this approach one step further, a property management system with the right integrations creates an efficient, cloud-based operation that can manage commercial property and accounting in one central location, eliminating human error and duplicate data entry.
Xero offers a cloud-based accounting platform that integrates with specific property management solutions to provide financial transparency for owners, investors & all necessary stakeholders while ensuring bookkeeping is completed accurately and promptly. Xero users can view their tenant contacts and financial transactions at all times with a constant flow of information between platforms. Property managers can upload their transactions and sync all their key contacts from any device alleviating the need for accountants to chase down information & allowing for the business to always be financially up to date. In this article, we break down the top property management systems that integrate with Xero.
Here are the top property management systems for Xero
1. RentHQ
RentHQ is designed for landlords and property managers who lease commercial or residential properties. With Xero, RentHQ will track your rent payments and invoices. RentHQ can be accessed through the Xero app store.
RentHQ features:
Tenant communications
Mail merge
Inspection schedules and reports
Document management
Maintenance requests and work orders
Marketing
Tenancy applications and screening
Desktop and mobile applications
2. Rentancy
Rentancy is a property management system that integrates with Xero. The integration lets you customize Xero stationary, include/exclude taxes, send invoices automatically upon generation or schedule a send date in advance. Because Rentancy uses standard Xero tracking categories, users can easily create property reports that accurately itemize expenses and income. Rentancy can be accessed through the Xero app store.
Rentancy enables:
Signing and storing of contracts - leases, tenancies, service charges, ground rent, invoice/rent demand generation,
Scheduling property tasks and compliance for CAM and capital improvements
Document management for leases, rent rolls, financial reports
Tenant communications via emails
Accessible from desktop and mobile devices
3. The House Monk
The House Monk is a property management system for commercial real estate managers and landlords. The Xero integration with House Monk allows you to perform bulk invoicing and billing tasks, collect payments, reconcile bank statements, track data, and create accounting reports. House Monk has its own Xero integration through its program.
The House Monk allows:
Property listing and booking management
Lease and document management
Ticketing and work order management
Planned preventive maintenance
Facility booking and asset management
Visitor management
4. PropertyMe
PropertyMe's integration with Xero ensures up-to-date accounting every time money is paid to or from your business account. PropertyMe shares invoice details to Xero, allowing your accounting team to auto-reconcile the following day for a clean and accurate P&L statement. PropertyMe has its own Xero integration through its program.
PropertyMe features:
Import of transaction files
Management dashboard for daily operations
Management of tasks, jobs, and inspections
Access for owners and tenants
Cloud storage for leases, rent rolls, and accounting reports
Marketing and listing tools
Accessible on desktop and mobile devices
5. Re-Leased
Re-Leased has seamless two-way integration with Xero, saving you up to 90% of the time spent on accounting and admin tasks. This integration creates an all-in-one, easy-to-use, cloud-based property management system and total accounting solution. Re-Leased is available through the Xero app store.
Re-Leased features:
Manage commercial properties, tenants, and leases from anywhere at any time, while Xero takes care of all the accounting needs.
Track tenant communication, payments, rent rolls, and property management documents.
Allow seamless and collaborative visibility into the financial health of each property and business as a whole.
Eliminate double entry with automatic syncing, capturing invoices, vendor records, and tenant information.
Does Xero have a property management system?
While Xero serves property management accounting needs, it lacks commercial management software such as tenant screening, uploading and storing documents in tenant accounts, and a marketing system. The use of Xero on its own also makes it a challenge to track properties on a unit, building, or facility level. But what it lacks in a management system is offset by its robust capabilities to help teams collaborate on all accounting and finance tasks. By completing all accounting work on one standardized platform, you can ensure that all functions are completed accurately and fully comply with regulations and laws.
Integrating your property management system with Xero accounting increases transparency and accessibility to all property management and financial tasks. The Xero integration serves all invoicing, tax payments, and banking and reporting functions. With Re-Leased, every aspect of property management can be synced together.
Schedule a demo with our sales team today to see the integration in action.