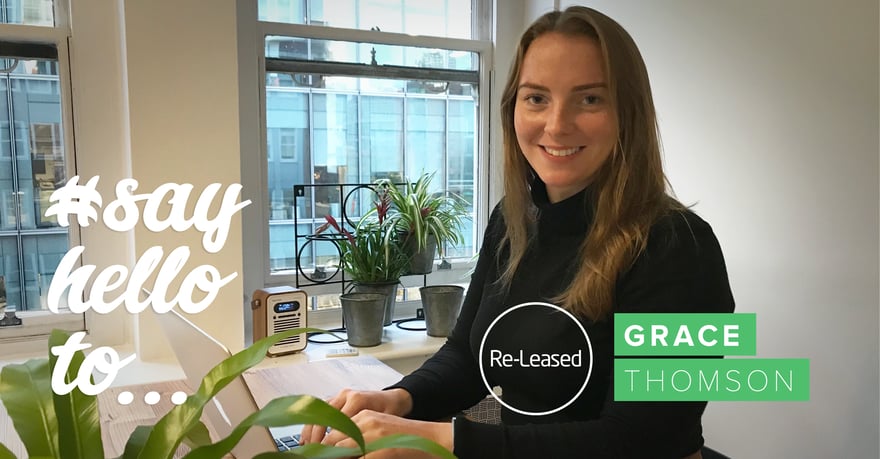 Say Hello To: Grace Thomson
Re-Leased 29 October 2019
Welcome to the first of Re-leased's 'Say Hello To' series, in which we sit down with members of our amazing team across the world and learn a little more about their role, passions and favourite things to do outside of work.
First up is Grace Thomson, a Partnerships Manager based at our London office, who has made an incredible impact in the short time she's been with our team.
Go on, tell us a bit about yourself.
Hi, I am Grace, originally from the best seaside town, Brighton. I really enjoy skiing and worked a ski season in France before university. I absolutely love doing sporting challenge events for charity. To date, I have cycled from London to Paris and completed the Bilbao night marathon. My next challenge will be a triathlon!
When did you join Re-Leased and what does a typical day look like?
I joined Re-Leased in January 2019 as an intern which was brilliant as I was able to work across different projects, giving me a broad understanding of the business.
Now, my role is Strategic Partnerships. This means I look after Re-Leased's Partner Programme, which is made up of our amazing accounting partners and other businesses who are aligned with our vision to use best-in-class, cloud-based technology. We collaborate and work closely to service our mutual customers in the commercial property space. A typical day involves getting out and talking with our existing partner firms, and looking out for new ways to collaborate with businesses.
What do you like about your role?
I love meeting new people and luckily, as part of my role I get to meet new people all the time. I get satisfaction from finding solutions for businesses and helping our partners to improve their processes through technology. Last week I was visiting one of our partner firms and they were telling me about the impact that Re-Leased, and other cloud apps, has had on our shared client's business and it's meetings like those that I thrive on!
What has been your most memorable moment at Re-Leased?
My favourite memory from Re-Leased so far was my first end of quarter social I organised for the London team. I sent them off to do a selfie challenge around the landmarks of London. Some of them are the best photos I have ever seen.
If you're interested in learning more about Re-Leased's Partner Programme: